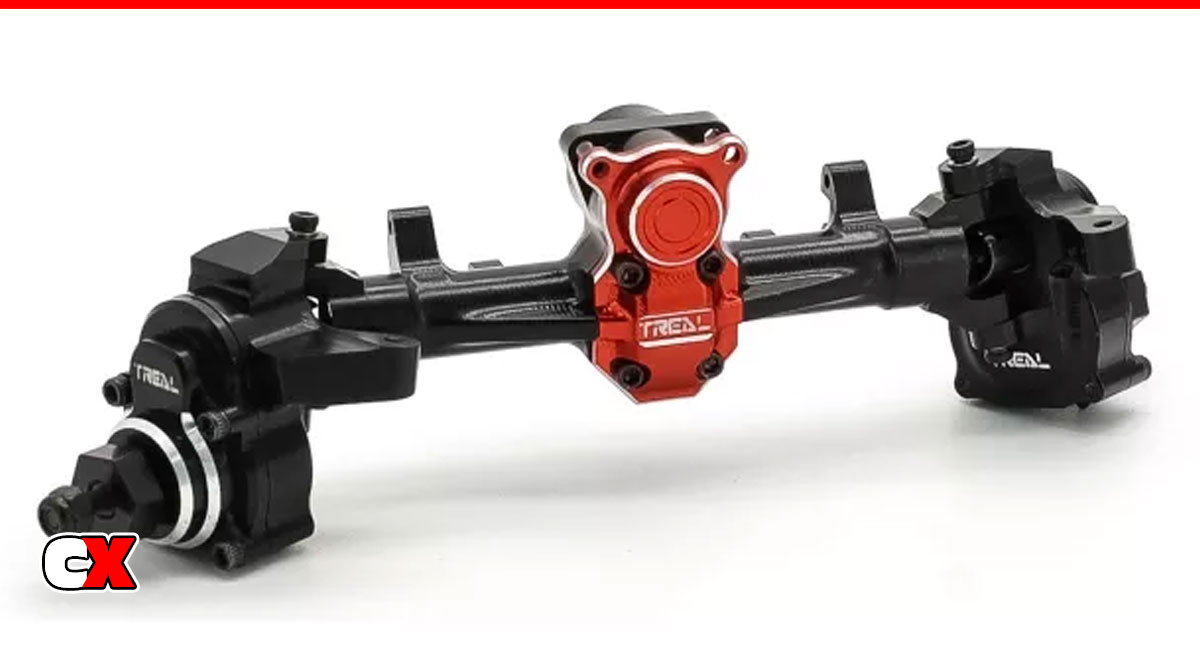 TREAL has announced a set of front and rear aluminum portal axle kits for the Axial SCX24 crawler. These axles are a direct fit and come pre-assembled for easy installation.
Both are CNC-machined from 7075 aluminum and anodized black (or natural) and red for a super cool look. It comes with everything you need to install, however you do need to supply the worm gears, bearings and steering linkages from your original axles to complete these.
This set is compatible with all of the 1/24 scale trucks including the Deadbolt, C10, JLU, Gladiator and Bronco.
Quick Stats
Product: TREAL SCX24 Front/Rear Aluminum Portal Axle Kits
Part #: n/a
Scale: 1/24 Scale
Price: $59.98
Build Type: n/a
BUY NOW: Front: https://bit.ly/3Uwm2ee, Rear: https://bit.ly/3Saz8vY
Features
• Compatible with: Axial 1/24 SCX24 DEADBOLT AXI90081T1, C10 AXI00001T1,JLU AXI00002V2T1,Gladiator AXI00005T1,Bronco AXI00006T1.
• Excellent design: Portal axles kit design, provides higher ground clearance and free feel on more complex terrain. What's more, the portal knuckles instead of C hubs, provides larger clearance of the front axle.
• High quality material: Using high quality aluminum 7075 raw material.
Axle housing& portal covers are all made by Aluminum 7075.
• Easy Installation: Pre-assembled, coming with all hardware for the axles, pefect fit directly for SCX24 stock parts.
• CNC processing:High precision CNC machining ensures the long life and better performance
What We Like:
Adding portals to your SCX24 will certainly help with ground clearance and give your tiny crawler a more rugged look. We're also liking that TREAL has helped keep the cost down by suggesting the use of your stock worm gears, bearings and steering links.
What We're Not Sure About:
This is a pricey upgrade for both the front and back axles, almost totaling up to the cost of the rig itself.
For more information, please visit: www.trealhobby.com
Gallery

Check out more cool products from TREAL on CompetitionX.
Make sure you visit and subscribe to our YouTube Channel (CompetitionX YouTube) for up to date videos on all the current products!
Notice: Some of our articles, videos and descriptions may contain affiliate links, which means that if you click on one of the product links, we may receive a small commission. This helps support the website and social media channels and allows us to continue to produce content. Thank you for the support!
#treal #rccars #competitionx