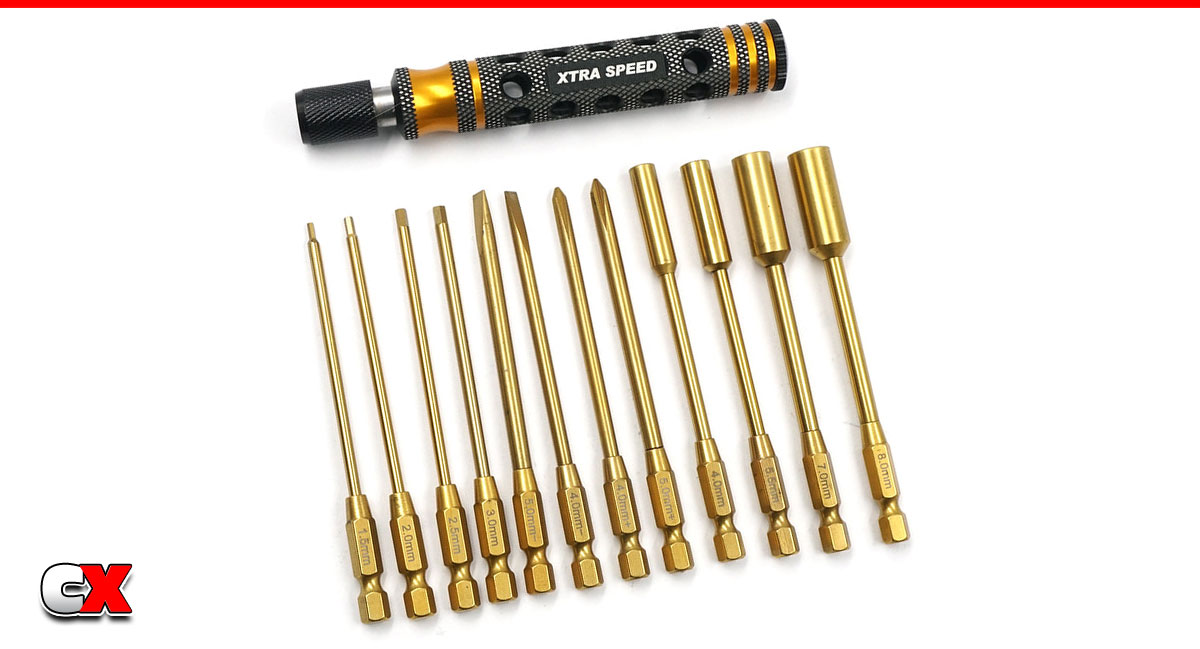 Packing for a RC hike can be tedious with all the different tools needed to keep your ride in tip-top shape. Well, Xtra Speed has come out with something to help out in this department – a 12-in-1 tool that is super compact and actually really cool looking!
This tool features 12 different 'bits' that include a Phillips, flat, hex and nut driver tips, all designed to snap into the handle for quick fixes.
What We Like:
It's always nice to have a small form-factor solution when traveling, and the fact that it comes with so many different types of bits is great. We love that all of the 'most-needed' sizes are included and the handle is knurled for an easy grip (especially if your hands are sweaty from the hike).
What We're Not Sure About:
While it is a compact system (compared to carrying around 12 full tools), you still need to have some sort of carry case to manage all the bits. Loving the idea, but the $45 price tag is a bit steep, especially if you already have all the tools.
XS-59217 Xtra Speed 12-in-1 Multi-Tool

For more information, please visit: www.facebook.com/xtraspeed.rc
Check out Xtra Speed products at AMain Hobbies.
Check out more cool products from Xtra Speed on CompetitionX.
Make sure you visit and subscribe to our YouTube Channel (CompetitionX YouTube) for up to date videos on all the current products!
Notice: Some of our articles, videos and descriptions may contain affiliate links, which means that if you click on one of the product links, we may receive a small commission. This helps support the website and social media channels and allows us to continue to produce content. Thank you for the support!
#xtraspeed #rccars #competitionx