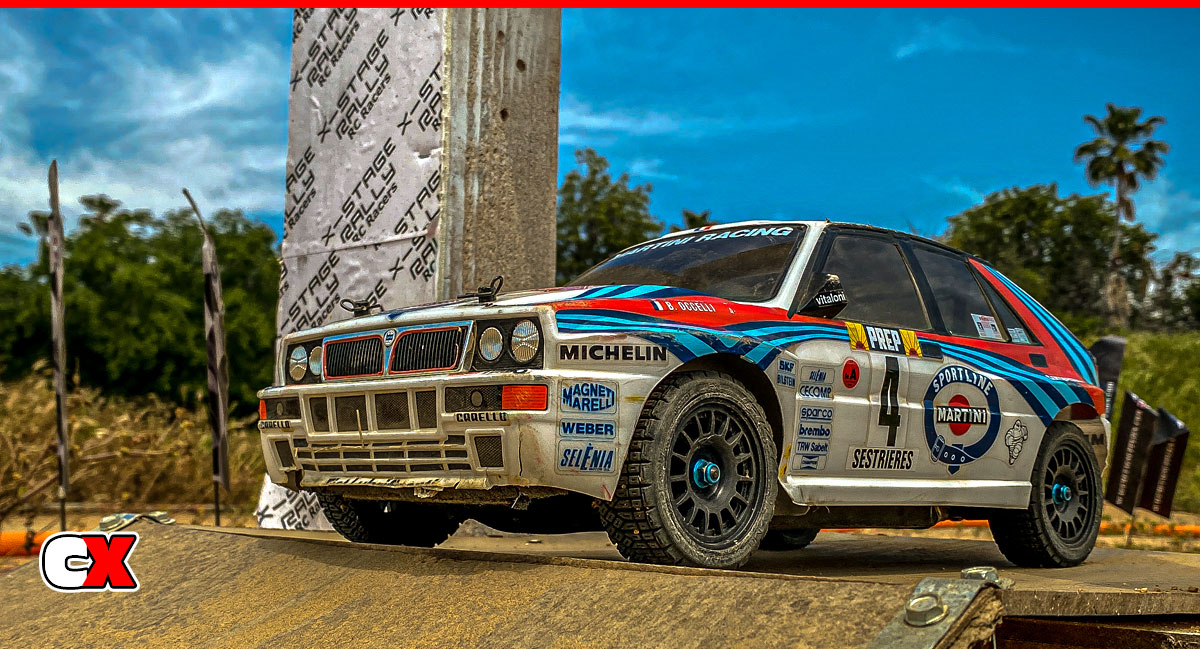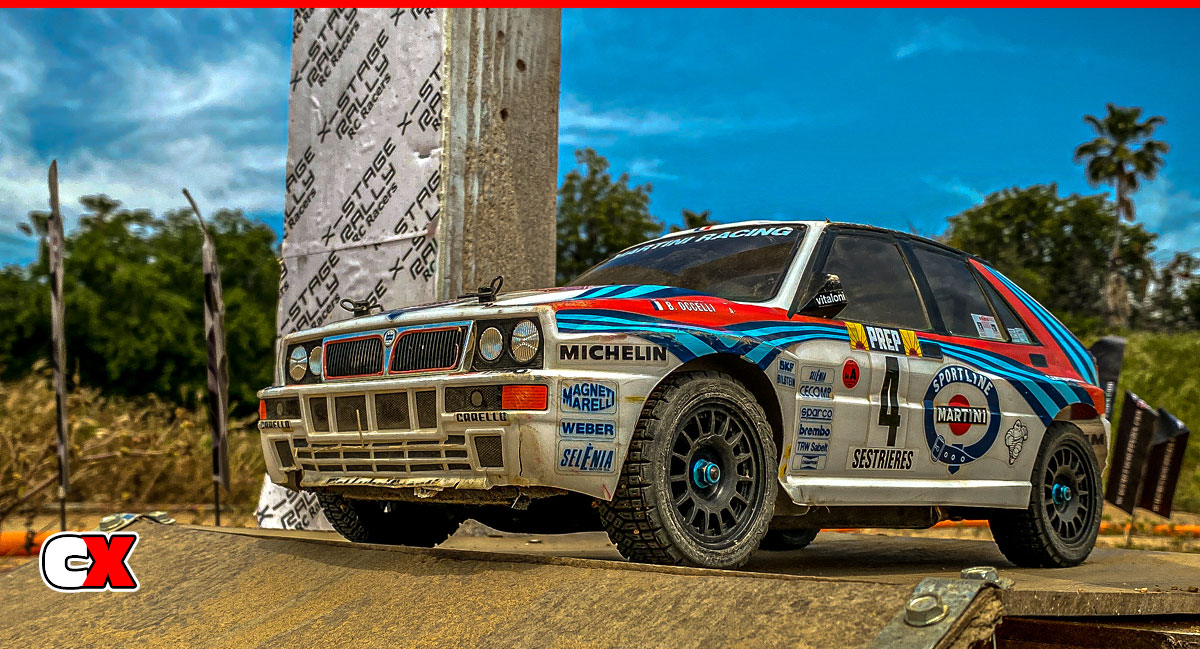 The Dayton Rally Cup Rally Car Event was held on April 16th at the our local Rally hotspot, the Crest Community Church in Riverside, California. We were not only there to blast around the super cool Rally course, but to also celebrate the birthday of one of our members, Dayton Lowe. Pizza, drinks, Rally cars and a healthy camaraderie – all the things that make an amazing event.
CompetitionX was there running 2 cars – the Tamiya XV-02 in the Open Rally class and Team Associated's Apex2 Sport A550 in the Spec class. We also ended up running another member's Dakar truck (thanks Frank) and having a blast with it – we've got one of those currently in the build-up stage for the next Rally event!!!
Let's take a close look at both of our rides.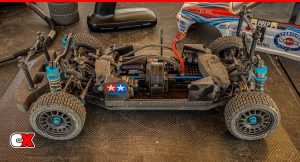 1. Tamiya XV-02
Our XV-02 is relatively stock, only adding a few parts for the 'cool' factor more than for performance. Carbon front and rear shock towers were the only major upgrades added. We did swap out the center spur gear from the Tamiya pitch to 48P, allowing us to use a larger range of pinion gears that we already have.
The only other modifications we did was to add fluid to the front and rear differentials – 7k in the front, 3k in the rear.
Complete Package:
Chassis: Tamiya XV-02 Rally Car
Servo: Hitec DB777WP Low Profile Servo
ESC: Reedy Blackbox 410R Brushless ESC
Motor: Reedy Sonic 540 21.5T Brushless Motor
Battery: ProTek 2S 5000mAh Si-Graphene HV LiPo Stick Battery
Radio: Futaba 4PM Radio System
Tires: Jetko AVANTGUARDE Tires/Claw Wheels
The XV-02 was on fire all day – easy to drive, easy to drift and explosive power even with a 21.5T motor. The car was definitely faster than we were as shown by our quick 1:35 second lap on our 2nd run. This was the fastest run of the day by about 5 seconds, something we really needed after our horrible 1:51 lap on our first run (told you the car was faster than we were!).
At the end of the day, though, that 1:51 hurt us, losing a first place finish by less than a second. It's ok, knowing the car has massive potential, we'll take a P2 any day.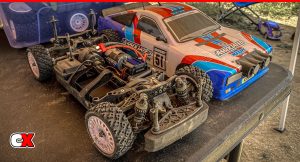 2. Team Associated A550
While not our first time on this track with Team Associated's Apex2 Sport A550, it was the first official race with the Rally car in the Spec class. Although we've put a little bit of work into it, we weren't quite sure how well this car would do in competition and timed runs. Changes include a full set of Fast Eddy Bearings, oil-filled shocks off of the Apex Hoonigan Hoonicorn, carbon fiber towers, fluid in the front and rear diffs (7k front, 3k rear) and a fluid filled center diff (7k). We also swapped out the servo (for better drift control) and the radio system (so we don't have to have TWO radios at the event).
Complete Package:
Chassis: Team Associated Apex2 Sport A550 Rally Car
Servo: Hitec D625MW Metal Gear Servo
ESC: Stock – Reedy SC500X
Motor: Stock – Reedy Sport 550 Motor
Battery: ProTek 2S 5000mAh Shorty HV LiPo Battery
Radio: Futaba 4PM Radio System
Tires: Tamiya Rally Blocks
That unsure-of-its-performance feeling quickly drifted away after a stellar Round 1 run, crossing the loop with a time down in the mid 1:40's (in comparison, most open cars are in the low 1:40's). Rounds 2 and 3 also went well, giving the A550 its first victory in the Rally Series. It was quick on acceleration and that Hitec servo/Futaba radio combo made it incredibly easy to drive. Time to clean it up and get it ready for the next race!
We'd like to thank Dayton for the pizza, the 'Gerb' for always pushing me to go faster and the whole SoCal RC Rally Runners crew for another fun event.
If you've ever wanted to try Rally, this is the place to do it. A very laid back atmosphere with a great group of people always willing to help you get your car's in tip-top racing condition!
Check out SoCal RC Rally Runners on Facebook for more info on upcoming Rally events.
Gallery