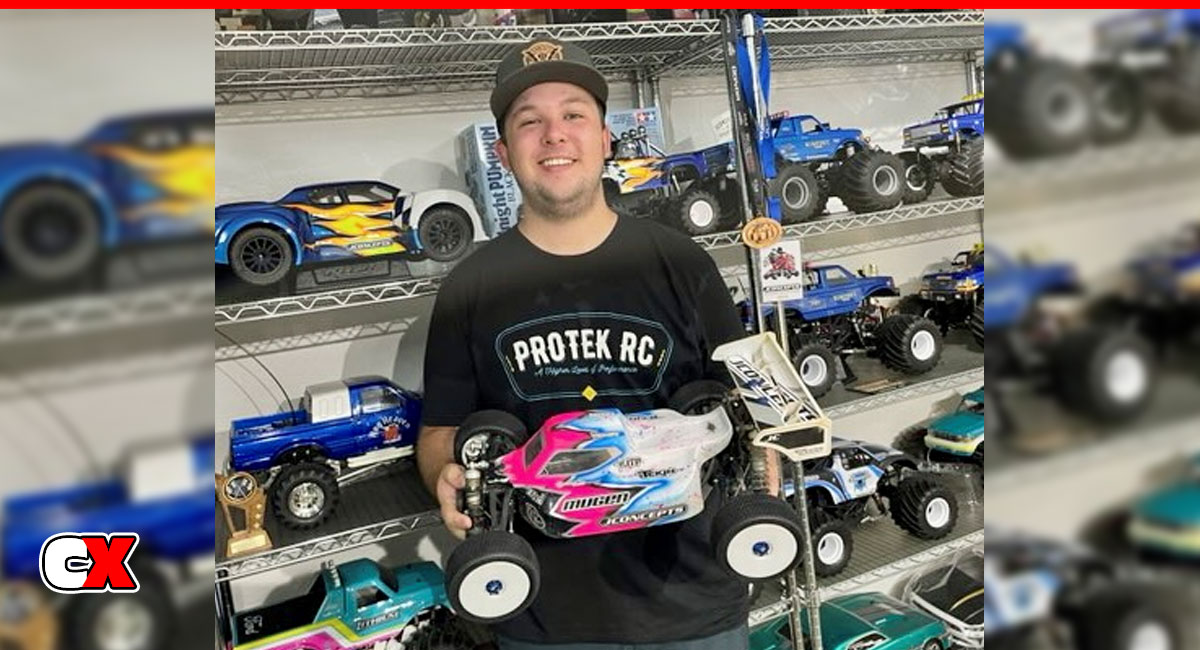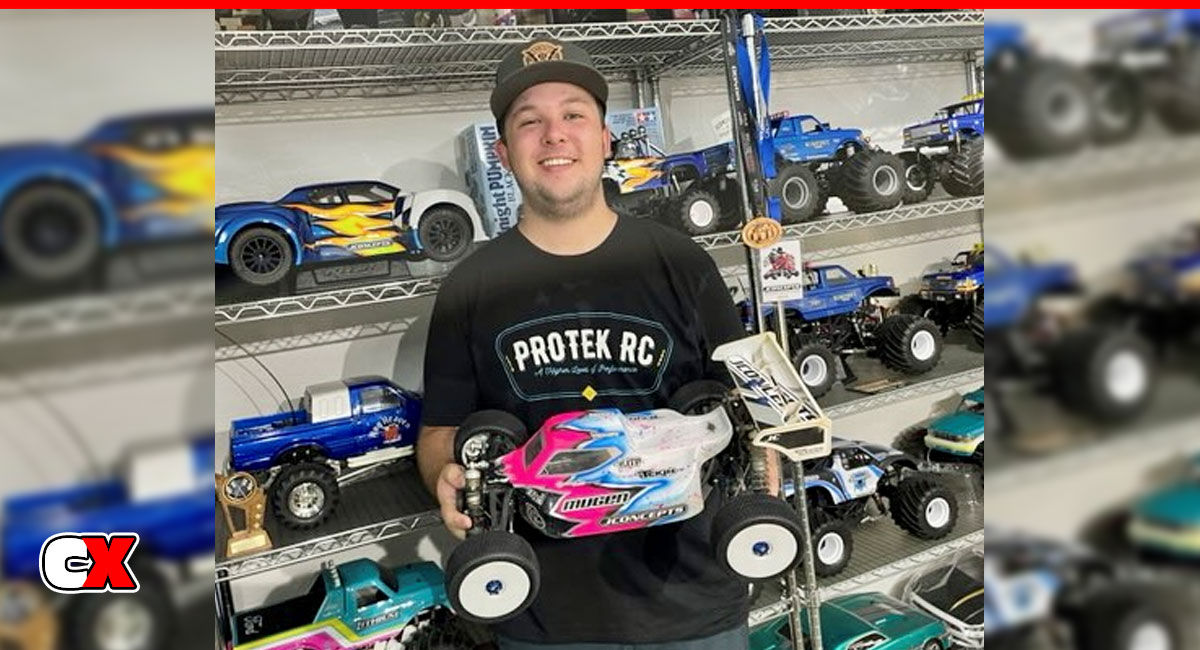 Tyler Hooks, race/contributor/commentator/influencer, has joined the ProTek RC Race team. Hooks has been racing for 11 years in both the 1/10 and 1/8 offroad program, hitting all the major races around the country.
Here is the press release from ProTek RC:
"AMain Hobbies is pleased to announce the signing of Tyler Hooks to a multi-year contract to be a member of its ProTek RC Pro Race Team. Despite being just 25 years of age, Hooks brings a wealth of experience as a 1:10 and 1:8 off-road and oval racer and is well respected by the RC community for his contributions to the radio-controlled industry.
A member of the United States contingent at the 2016 IFMAR 1:8 Off-Road World Championships in Las Vegas, NV, Hooks has been racing competitively for 11 years and has finished on the podium four times in ROAR 1:10 off-road stock events and was the 2018 ROAR 1:10 National Champion in 13.5 4wd Buggy. Here in 2022, Hooks has won 1:8 eTruggy titles at the Southern Indoor Championships, Psycho Nitro Blast, and Southern Nationals, and he was a $1,000 transfer winner to compete in the Invite Nitro Buggy field at the $30,000 Visions Off-Road Race in Jay, OK. The Winter Garden, Florida resident also was the Modified 2wd Buggy winner at the FORC Raceway March Madness event earlier this year.
Off the track, Hooks' contributions to the RC industry are wide-ranging, from currently serving as Event Manager at JConcepts to working as a color commentator and content provider at Live RC. The St. Edwards University (Austin, TX) Munday School of Business graduate also is highly regarded for his insights in product development and testing and is a well-known RC social media influencer and a helpful and willing supporter amongst his fellow racers at the track.
"Tyler Hooks is a tremendous racer, but an even greater ambassador to the radio-controlled industry," states ProTek RC Proprietary Product Specialist and Team Manager and longtime racing professional Chad Bradley. "Tyler is young but his experience and involvement in the full gamut of the RC industry is extensive and very impressive. We are thrilled to have him on board the ProTek RC Pro Team."
In his racing program, Hooks will be running the ProTek RC Samurai RM engine as well as ProTek RC batteries and servos and using the vast line of ProTek RC tools and accessories."
We run ProTek batteries exclusively and absolutely love them!
You can check out all of ProTek's gear over at AMain Hobbies: https://bit.ly/3OUwZlV
Check out more cool products from ProTek on CompetitionX.
Make sure you visit and subscribe to our YouTube Channel (CompetitionX YouTube) for up to date videos on all the current products!
Notice: Some of our articles, videos and descriptions may contain affiliate links, which means that if you click on one of the product links, we may receive a small commission. This helps support the website and social media channels and allows us to continue to produce content. Thank you for the support!
#protek #rccars #competitionx