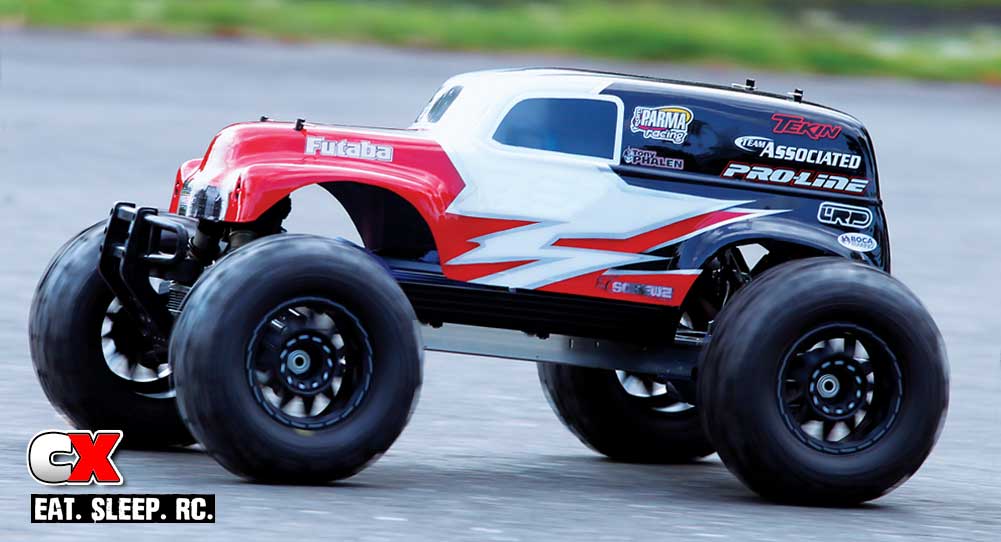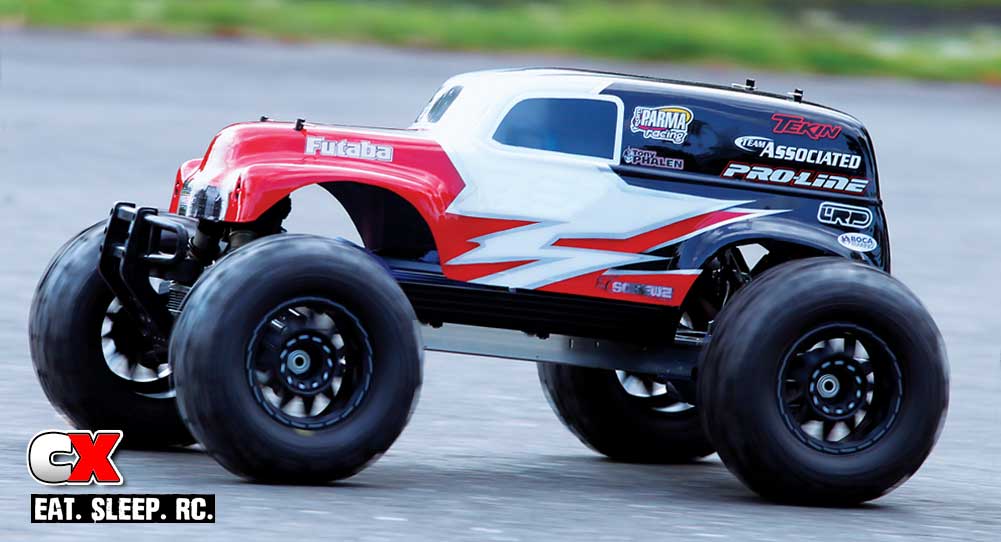 The Rival Enters The Monster Jam Arena!
As we all know, monster trucks are big, burly behemoths with king-sized tires, flashy bodies and ridiculous power plants. Up until this point, monster trucks have been separated into their own classes at many venues, running on the same off-road tracks as their smaller, off-road counterparts. While there is some enjoyment to this, the true monster truck fans have been getting itchy for a proper MT racing system that emulates the real thing; basically side-by-side racing on identical, mirrored tracks.
Not too long ago I stopped by RC Madness in Enfield, Connecticut, to check out their monster truck race which was held indoors on their carpet track. This event pretty much fit the MT racing bill; side-by-side racing on a mirrored track complete with a pair of crossovers, tight turns and big jumps over a section of "crushed cars" (basically a bunch of old RC bodies that were tied together). Trucks started at one end of the track at a starting gate and at the tone blasted through the track. The excitement from this form of racing was amazing and I immediately went home and started planning my monster truck build. This machine started life as a stock Team Associated Rival but soon transformed into the "monster" you see here.
Modifications

Chassis
Thankfully this chassis is not the first rendition of this platform; almost 95 percent of this truck originated from the Monster GT some years ago. I actually worked on the MGT project so I'm quite familiar with this entire truck. That being said, I knew the chassis would require very few upgrades to boost reliability or performance, so the only real change I made was to add AE's aluminum steering link (from their full aluminum steering system). I was going to add the whole aluminum system but, because the racing was going to be on carpet, I wanted a little flex in the steering to remove some of the twitchy feeling.
I also swapped out the front and rear bumpers and skid plates with fresh units for aesthetics; this project was being built off of my used Rival and, well, it's seen some use!
To finish off the chassis (and all the other areas), I replaced all the black screws with a full set of stainless hex-head screws from RCScrewz. This set of screws is a direct replacement and will allow you to replace EVERY screw in the truck. I think this certainly gives the Rival a nice final touch.
Suspension
I took a quick look at all the suspension parts on the Rival; everything from the suspension arms and shock towers to the steering knuckles and turnbuckles. I pulled the stock suspension arms off and installed a full set of RPM suspension arms. Not only do these add to the durability, they also have an extra mounting hole to allow more tuning.
The next step was to address the eight plastic-bodied shocks. As I sat at my workbench staring at them, I wondered if there was an alternative that would allow me to not only use threaded aluminum bodies but also to use only four shocks. A little research and a phone call to my buddy Brad over at AE and a full set of RC8T shocks was on their way; these shocks feature threaded, aluminum bodies and a much bigger bore – something I would need with this hefty MT. During the build process, I found that they were slightly longer than the stock shocks so I installed a piece of fuel tubing on each shaft to limit the down-travel.
As I was installing them on the Rival, I noticed an unfortunate interference issue between the bigger bore shocks and RPM's upper arm. The original suspension arms are molded in a hoop design; RPM's are the same way but feature a long rib running through the center of the hoop for added strength. This rib works great with the smaller shocks; not so much with my Big Bores. I decided to ditch the upper arm (in favor of the stock one) but keep the lower RPM arms on to utilize their tunability.
Drivetrain
I love the Rival and have put some serious time on this truck. I know the drivetrain is rock-solid, but knowing that carpet racing can put some major stress on the drivetrain, I figured a little once-over couldn't hurt.
I started by removing the front end and replacing all the bearings with higher-quality, ceramic rollers from Boca Bearings. Boca doesn't offer a full set for the Rival, but they do for the MGT so most of what you need will come in that kit.
Hub and gearbox bearings were all replaced and the front diff was pulled apart and rebuilt with 30K differential fluid. I gave the rear end the same treatment; Boca Bearings throughout and rebuilt the differential with 15K fluid.
Finally, I removed the center transmission and replaced all the bearings. While apart, I rebuilt the center differential but instead of using fluid, I stuffed it full of diff locking paste to keep it from actually working. I don't want any center diff action; full-time 4WD baby! Upon re-assembly, I made sure all the gears were shimmed properly for maximum reliability and installed the transmission back in the truck. During this time I also gave the outdrives a quick look and all of them were in excellent condition.
Electronics
For a RTR monster truck, the Rival's electronics are pretty stout and, while it does come with a pair of 7-cell NiMH packs, the Rival can handle up to 4S of brute LiPo power … an area the Rival is very happy at. This setup would probably suffice at the Madness track , but if this should become a major racing deal and the tracks get bigger, I'm going to want the Rival on at least 6S of LiPo juice.
Tekin's RX8 Gen2 was dropped in and mated to a 1700kV Tekin T8 G2 brushless motor. This is a powerhouse combo in the 1/8-scale world and typically looks monstrous in most vehicles … not so much mounted in the massive Rival.
To feed this hungry setup, a pair of 6000mAh 2S LiPos from LRP sits snugly in the stock battery tray. These packs are relatively new to the US market and feature 4mm plugs and a cool-looking, semi-see-through blue case.
I was going to use the stock battery strap to secure the packs into place but decided I wanted the mounting system to be a little more trick, so I conjured up a cool setup using a pair of Velcro straps. These straps wrap their way under the tray and allow quick and easy battery removal. Once you attach the battery tray to the chassis, the straps stay securely in place.
The next order of business was the servo. Gone is the stock DS1510MG metal-gear XP servo and in its place sits Futaba's S9157 high-torque unit. This baby turns the tires with a brutish 425 oz. of torque.
Finishing off the electronics, I removed the XP 2.4GHz radio system in favor of my new love, my Futaba 4PX. This radio has all (and I mean ALL) the bells and whistles; telemetry, 40-model memory, mixing, timers, assignable functions, alarms; heck it even has a dual-compound comfy steering wheel and killer full-color 3.5-inch screen … and that's a majorly abbreviated list. If you have some time, you need to check out what this radio can do.
Body, Wheels and Tires
The exterior of this Rival needed to reek of attitude. To start things off , I did a little research on wheel and tire options and narrowed it down to Pro-Line's Rock Rage. These 7.15-inch-tall MT tires come pre-mounted and feature a futuristic tread design that should give me tons of traction on the carpet as well as the tops of the crushed cars. The Rock Rage's are wrapped around an aggressive-looking set of 11-spoke wheels that are molded in flat black with simulated Bead-Loc rings and bolt heads (which I detailed with a silver Sharpie). They bolt right up to the Rival and, because of their offset, give the truck a mean, wide stance.
For the body, I was going to replicate a real-life MT truck but decided to create my own sponsored ride instead. I had the boys over at Parma shoot me over one of their clear Grave Digger bodies as the base. Larry Genova (of Kustom RC Graphics) squirted some liquid magic on the body, keeping with the red/white/black RCD colors. That looked great but was still missing something … ah yes, lights! A set of RAM red lights now peek through the front end for just a touch more attitude. Finally, I used Parma's High-Back Body Kit to give the RCD MT a proper stance.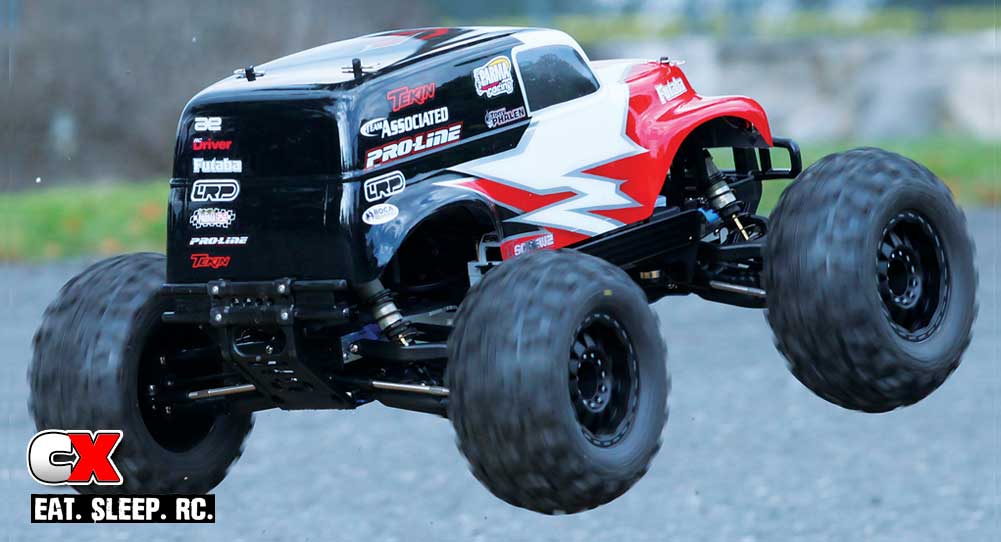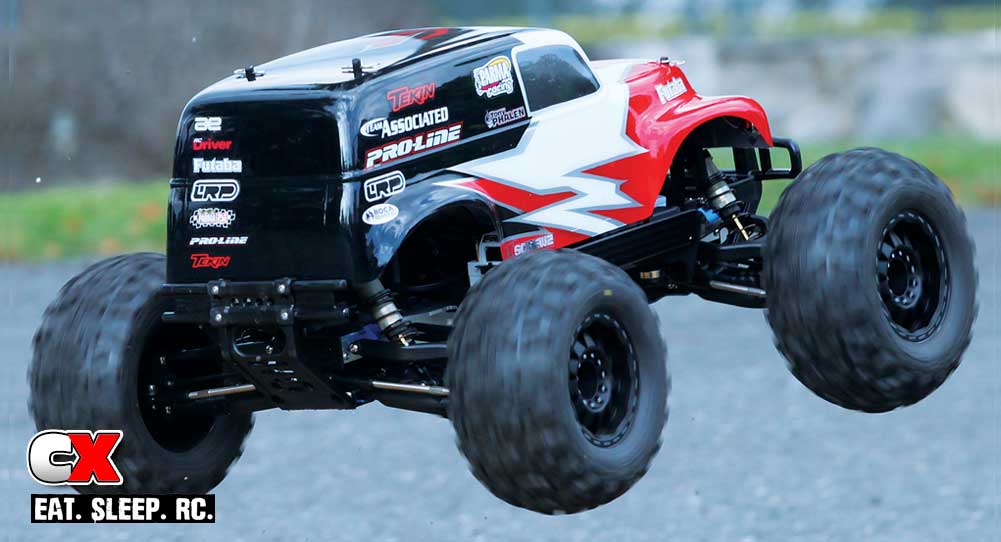 The Drive
Unfortunately the second monster truck race hasn't happened yet so I can't give you a rundown on how it worked on the official MT track, but I did get a chance to give it a go around the office. This truck has a TON of power (let's see if this equation helps out; two 2S LiPos + Tekin mojo + sticky Pro-Lines + carpet = holy *bleep*!), and ripping up the narrow hallways required a little bit of throttle self-control on my part. It's really fast and its distinct howl echoed along the hallway; it was pretty funny to see everyone in the office peeking their heads out to see what the heck was going on. There were plenty of oohs and aahs as this 18-lb. MT (with sinister red "eyes") continued to roar down the hallway.
For a suspension test, we took the Rival out of the office to our service hallway. This area is much wider and, should we get out of control, would allow a little more recovery room. Our first few full power launches were scary; the acceleration on carpet is just awesome. It does pull the front tires off the ground but if you're ready for it, you can modulate the throttle to keep it flying on all fours. The handling is a bit aggressive, in fact, a bit too aggressive, and I'll probably tone it down just a bit to keep it drivable. We put a few obstacles on the floor to simulate the "crushed cars" section of the MT track. The Rival made short work of it thanks to the added ground clearance and the studly shocks. The damping felt about spot on and I, at no time, felt like the modified suspension was a hindrance to the performance. The steering felt crisp even with the plastic steering, but I did notice a bit of deflection when rolling over obstacles. This is most likely the wimpy servo-mounted servo saver, but I'm on the fence if I should go with a larger servo saver or straight to an aluminum arm. Chassis roll seemed a bit excessive on fast turns as well, so I'm looking to fabricate an anti-roll bar system as well.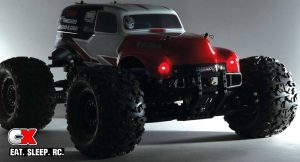 Final Thoughts
I had a fun time building this truck and think I have a pretty good entry for the next monster truck race. I'll have to wait until then to see if what I have created is competitive enough, but my initial tests leave me to think it's a bit overkill. I'm ok with that because you never know what the next race holds; having too much is better than not having enough. Let's get ready to rumble…
Parts Used
Team Associated, www.teamassociated.com
20510 Team Associated Rival Monster Truck
89338 Team Associated Factory Team 16x32mm Front Shock Kit
Boca Bearings, www.bocabearings.com
05-125C-YU Boca Bearing Ceramic Lightning Ultra Seal Bearings
Futaba, www.futaba-rc.com
FUTK4905 Futaba 4PX Transmitter
FUTM0217 Futaba S9157 High-Torque Digital Servo
LRP, www.lrp-america.com
430211 LRP 6000mAh 110C Competition LiPo
RPM, www.rpmrcproducts.com
70042 RPM A-Arms – Associated MGT, Black
Parma PSE, www.parmapse.com
10449 Parma 1/10-Scale Grave Digger, clear
10165 Parma High Back Body Mount Kit
Pro-Line Racing, www.prolineracing.com
1199-13 Proline Racing Rock Rage 3.8" All-Terrain Tires
RAM Lights, www.ramrcandramtrack.com
RAM120 RAM Ultra Brite Head Lights
Tekin, www.teamtekin.com
TT2327 Tekin RX8 Gen2 Truggy System
RC Screwz, www.rcscrewz.com
ASS054 RC Screwz Associated Rival Monster Truck Stainless Screw Kit
Additional Photos