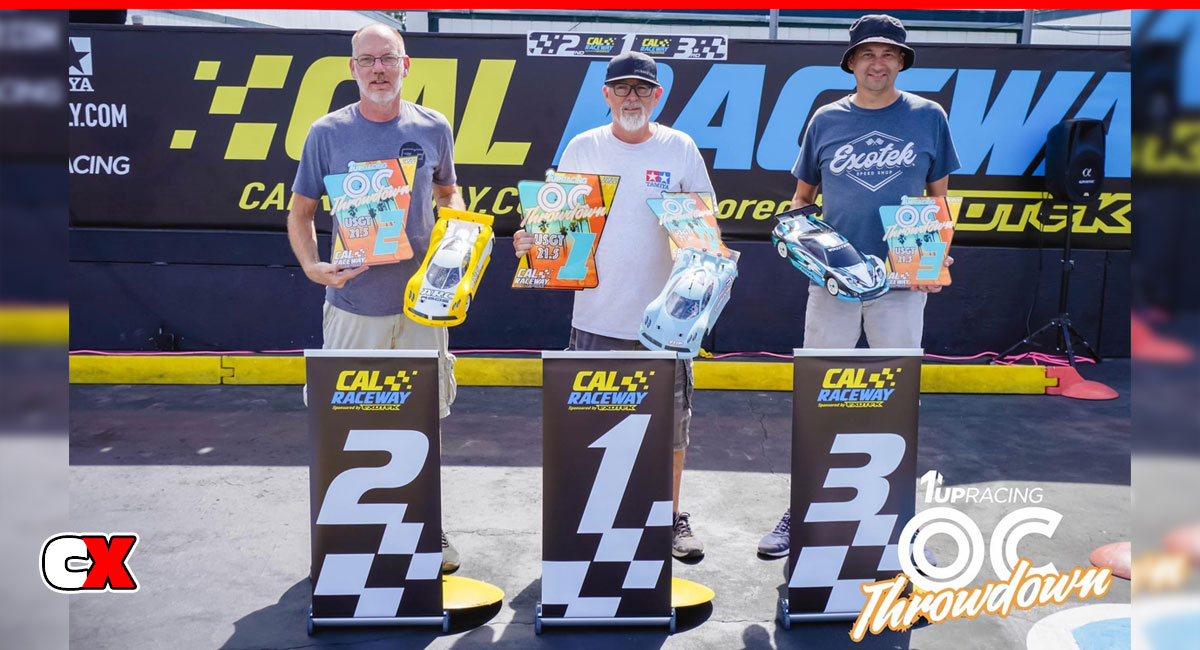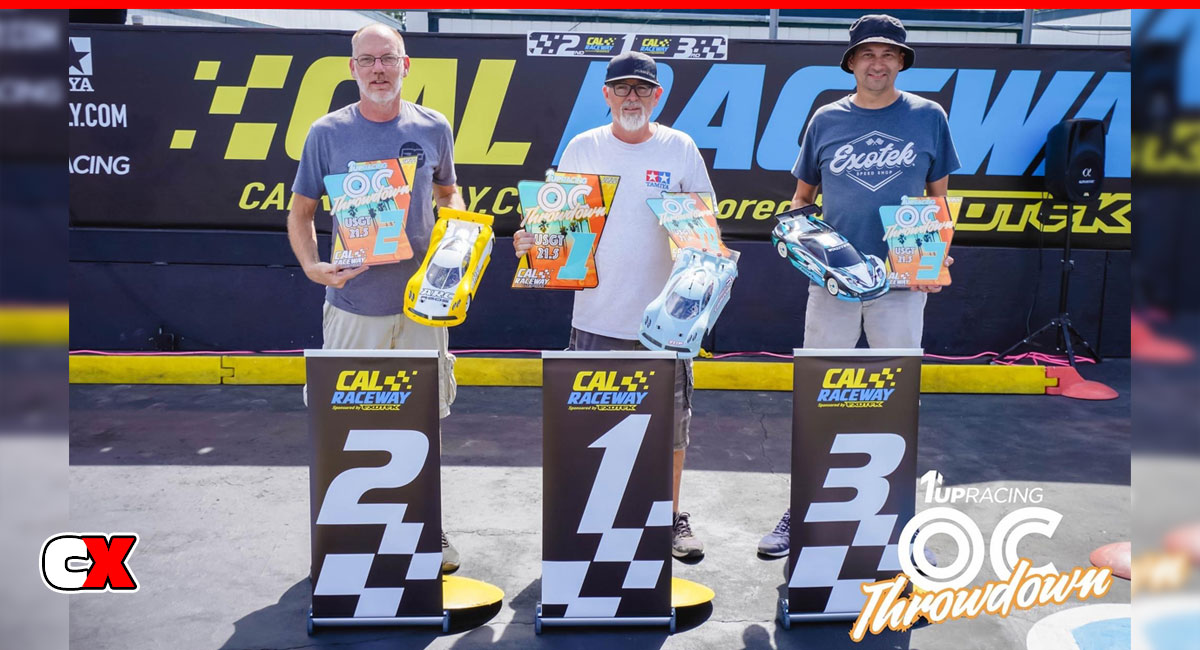 Over this past weekend (August 5-7th), CompetitionX attended the inaugural 1up Racing OC Throwdown event held at Cal Raceway in super sunny Southern California. The race offered 6 different racing classes – Modified Touring Car (TC), 17.5T Expert TC, 21.5T Sportsman TC, 21.5T USGT, Formula 1 and a Rookie class – with 82 drivers converging to see who could capture a podium spot. The normal locals were in attendance as well as racers from Vegas and Northern California. This was going to be the place to race this weekend!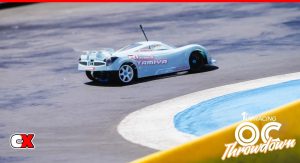 Prior to the event, we decided we were going to run the USGT class. Our Tamiya TRF419 was somewhat competitive but, since we don't hit the track as often as we like, it was going to be a stretch to make it to the Top 3. Seeing the lineup of people signed up, a Top 10 finish was our first goal of the weekend.
We also brought along our Exotek F1 Ultra car and, after a couple laps with it, decided it would make a good 2nd class to keep us from being bored all weekend long.
Friday
Friday was an optional day to be at the event, but if you wanted to get some pre-race wheel time on the new layout, it was the day to do it. Since we had seeding and qualifiers on Saturday, there would be VERY minimal practice on Saturday or Sunday, making Friday that much more important. We got both cars dialed in – the 419 more than the F1 – but since USGT was going to be our main focus, the F1 would have to suffer until race day.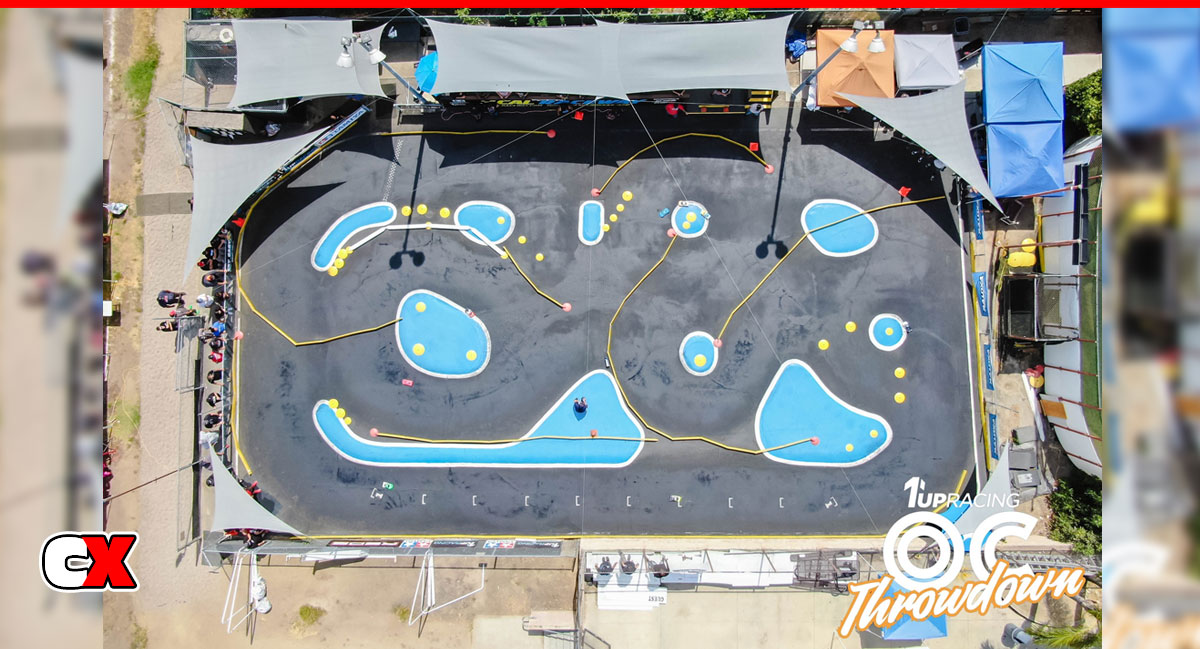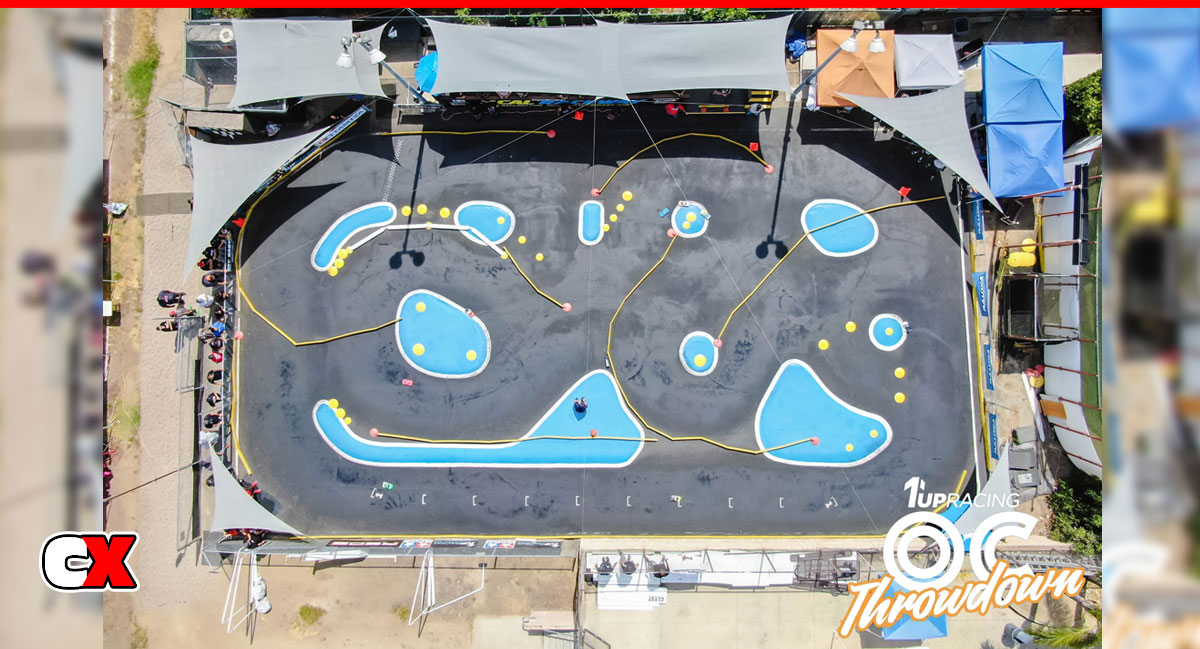 The layout was a little more technical than usual, starting with a long straight into a reducing-radius corner.
A short chute to a right-hander led to another short chute to a left-hander (affectionally called the egg yokes). Both were tight and required maximum corner speed to keep from getting dipped on. Getting this right was also crucial to a quick run to the Start/Finish line…
The tombstone caught many people out – too tight and you were popping the car up and into the outside dots. To wide and you didn't carry enough speed and opened the door to an easy pass. This was the corner for many make-it or break-it passing attempts. Great to watch!
After the Start/Finish line was a left-hander that fed into Fantasy Island, then another quick left-hander and back on the straight.
This was definitely a tricky layout but definitely one of our favorites.
Saturday
Everyone started arriving around 7am on Saturday, charging packs for some last minute practice time. Seeding started at 9am – basically, we'd run one round of 'qualifying' and use your 3 best consecutive laps to place you in your qualifying heats. This would help drivers of like ability run together.
After Seeding, Cal (led by announcer extraordinaire Notch Johnson) did a quick re-shuffle and the Qualifiers began! Every class ran 3 qualifiers and Qual points were used to figure your starting position in the mains.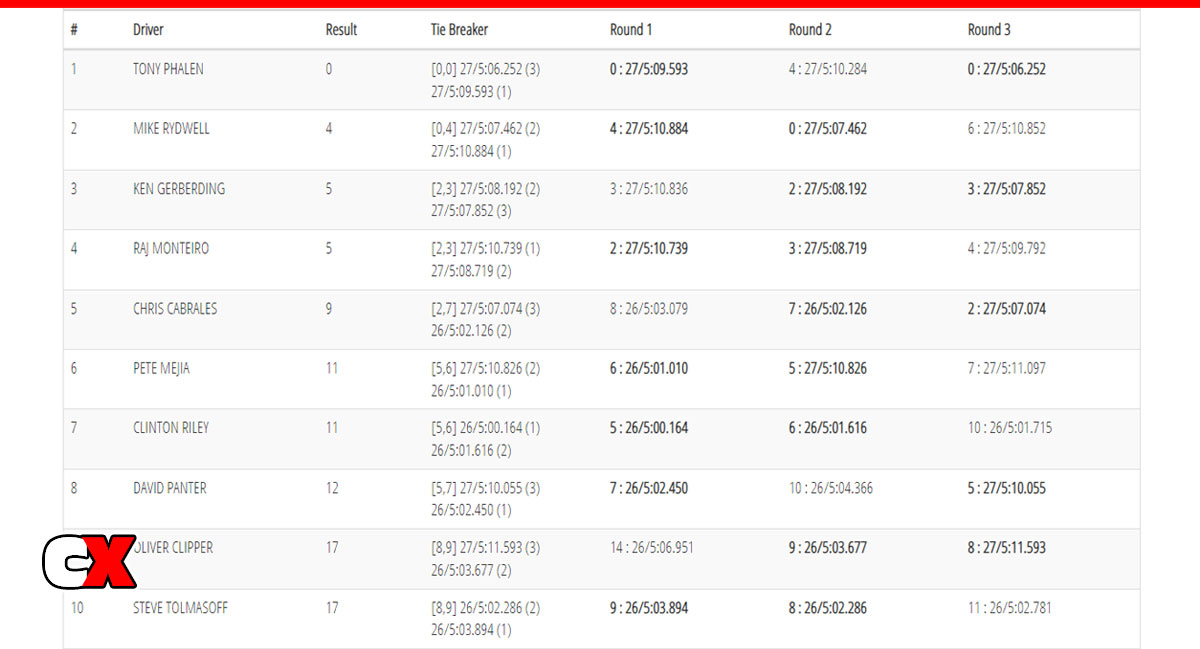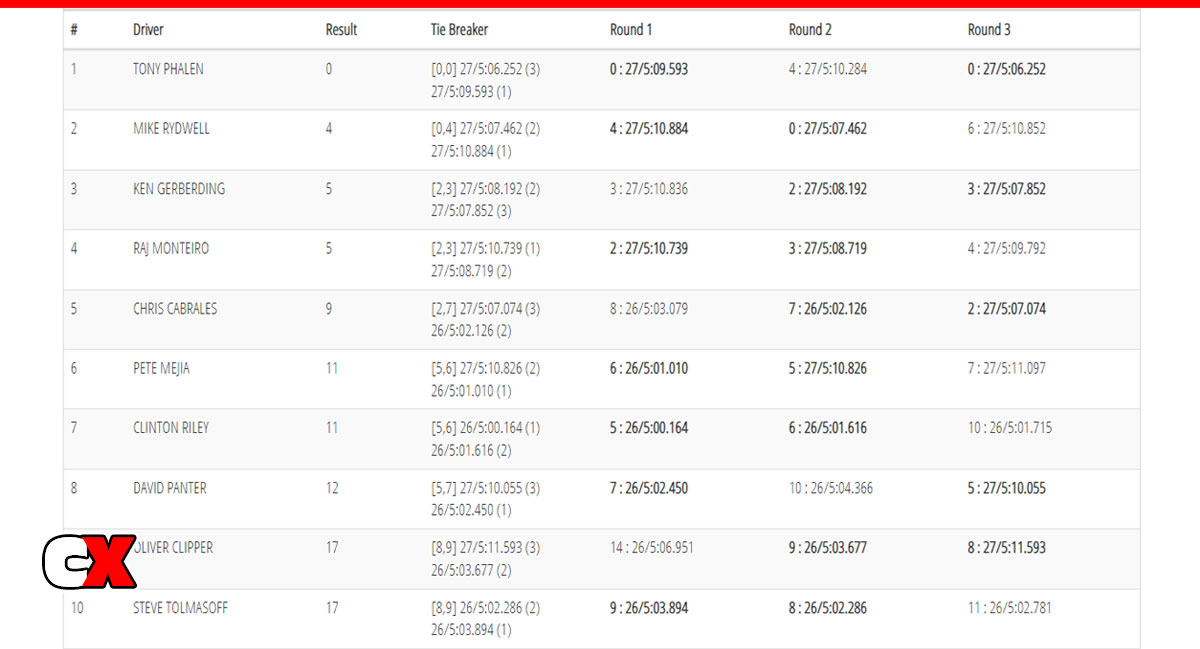 Ok, so what are Qual points? Qual points is a system that uses your finishing time to rank you against everyone else in your class. So, if you had the fastest time in Qualifier 1, you'd receiver 0 points. The second fastest qualifier would receive 1 point, the third fastest 2 points, 4th fastest 3 points, etc etc. After 3 rounds, your 2 best qualifying runs (points) would be added together and that result would determine your starting grid in the Mains.
After 3 rounds of qualifying, we had a 0 in Round 1 and a 0 in Round 2 in the USGT class, meaning we had the fastest times and would start on pole for the Triple-A Main event on Sunday! This was quite exciting seeing as some of the fastest locals were in attendance that we typically have a hard time even keeping up with! That also meant that we would have a clean track ahead of us at the start of each main!
The Formula 1 class was also stacked with some of the fastest F1 drivers in the area. Some of these guys race in our UF1 Series and are ballistic and take no prisoners, so you need to bring your A-Game to the A-Main! We were struggling a bit for steering in our F1 Ultra (that car has amazing rear grip) but were still able to post a 5th overall in qualifying. We're happy with that due to the limited amount of time on the car, but finishing higher than that in the mains might be a bit of an ask.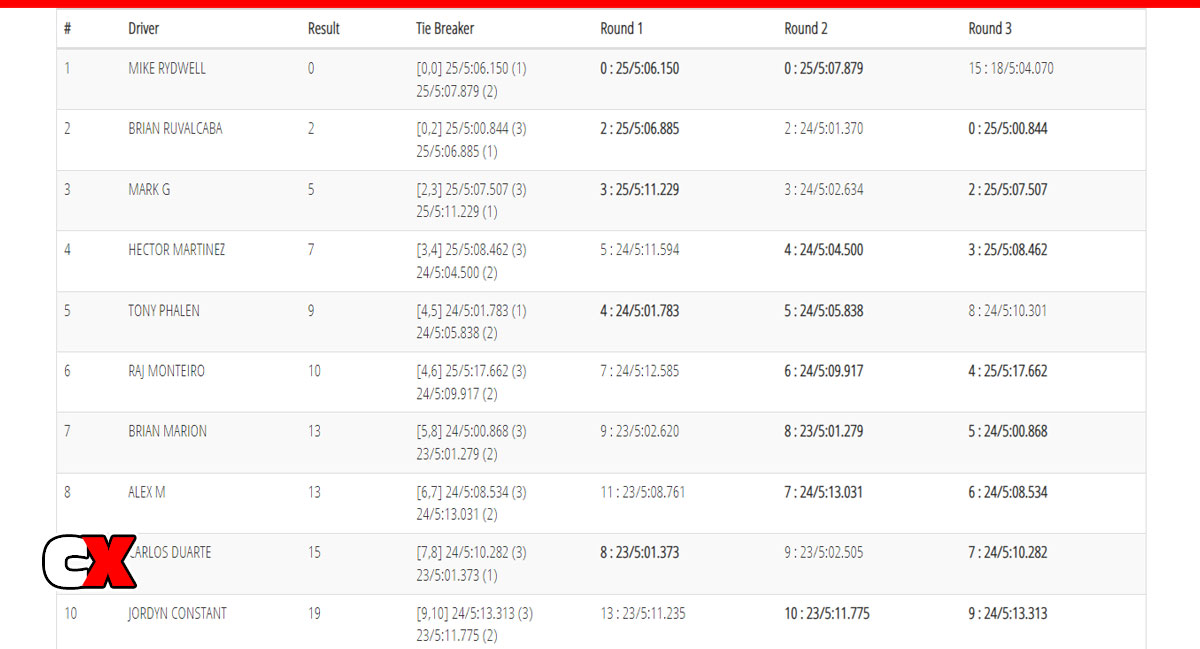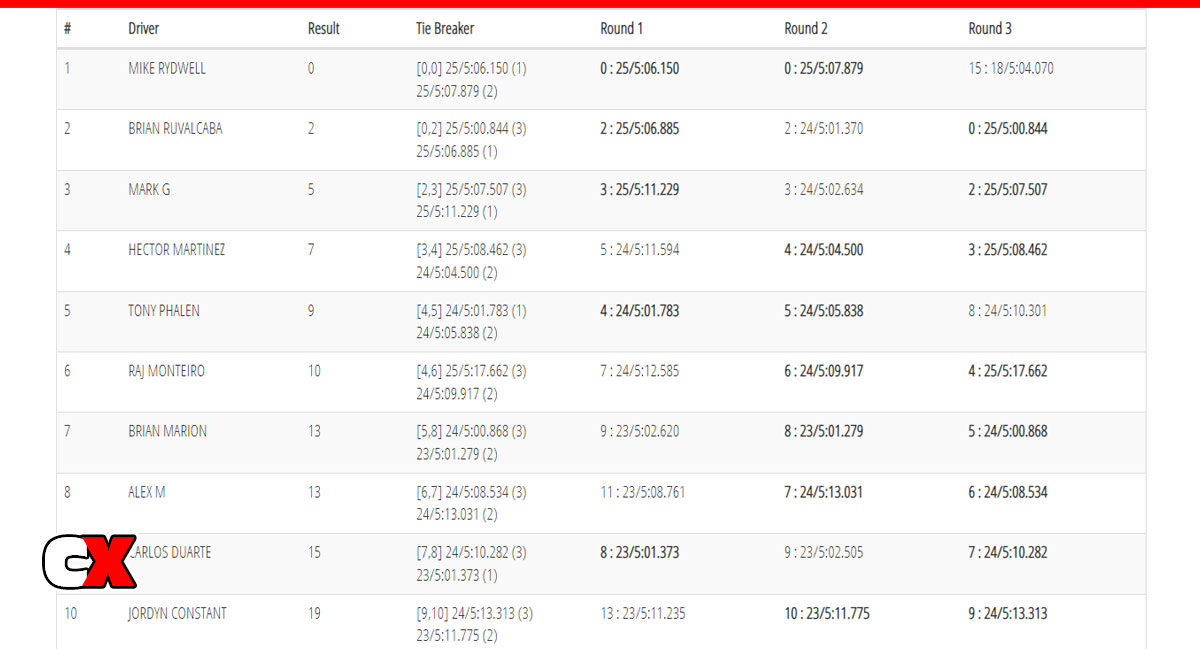 Sunday
Sunday – Main day. It's been awhile since we've been at a 'bigger' race, mainly doing a little clubbin' here or there. Having a full day of racing (again, Triple A-Mains), the high heat and starting up front of 9 other drivers wanting that #1 position, it was getting to us a little. We're not going to lie – there were some nerves, some concerns and the thought that 'if we mess this up, it's all on us'. We were at the front. There's really only ONE car that could cause issues – #2 qualifier Mr. Mike Rydwell. We've run with Mike alot (him and 3rd qualifier Gerberding) and they are two of the best drivers (and cleanest) to race against. But no pressure…
A1 Main – USGT
After a couple warm-up laps, we lined up, took a huge breath and tried to relax. At the tone, we were off…
The TRF419 was a little on edge but we knew, loose is fast. If I could just hang on until the rear tires came in, we'd be golden – and that's just the way it happened. The top 3 cars started to break away, us in front with Rydwell and Gerberding in tow. It was tight, it was close, it was fast – any one of us could win this thing.
After a few agonizing laps, Rydwell hit the tombstone and slowed a bit, allowing Gerberding to catch up. Mike immediately went into defense mode to hold off Ken which, thankfully, allowed us to pull away slightly and relieve that pressure. At the end of 5 minutes, we had held on, put in a near flawless run of 28/5:08.813 and took that A1 Main win. This would, however, prove very critical in the overall outcome of the USGT class.
A1 Main Video – USGT

A2 Main – USGT
More of the same as A1 – the top 3 would break away but this time, right around lap 9, Rydwell would LET(?) Gerberding by – and Ken's car was on fire! He caught us quickly, however we would hold him off the ENTIRE race – or would we? On lap 26 (with literally 20 seconds left in the race), we slightly touched the second egg yoke and bounced wide. Ken was at the right place at the right time and would sneak by, holding on to 1st for the last 2 laps and taking P1. Upset beyond imagine, we had to settle for 2nd with Rydwell bringing home 3rd. So, at the moment, us and Ken were tied for 1st place with a 1 and a 2.
A3 Main – USGT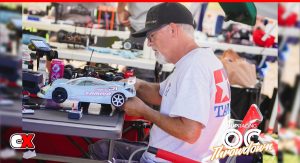 This is it, the final main – the deciding run to see who will be standing on the top spot of the podium. Still kicking ourselves for making that mistake (and possibly costing us the overall win), we went into A3 with extreme focus. Or not. Leading again from the starting tone, we started to gap 2nd and 3rd as we flew down the back straight and into the first corner. For some reason (maybe because it was lunch time and we were hungry), that focus disappeared and we clipped a dot, sending us flying off the track. After a quick 4-letter word, we were back on track but now in 3rd, about a straight behind 1st (Rydwell) and 2nd (Gerberding) – and this is how we would finish.
So, now, here's where it gets CRAZY! So, we have a 1st and 2nd (3 points), Rydwell has a 1st and 2nd (3 points) and Gerberding has a 1st and 2nd (3 points) – a 3 way tie!!!!
Of course, everyone started asking what the tie breaker is going to be but no one knew (or wanted to reveal it just yet), so it came down to the podium trophy presentation before it was official. Remember that first run of they 28/5:08.813 run? Well, that would be the deciding factor – the fastest run out of the 3 of us. Rydwell had a 28/5:10.670 and Gerb had a 27/5:00.329!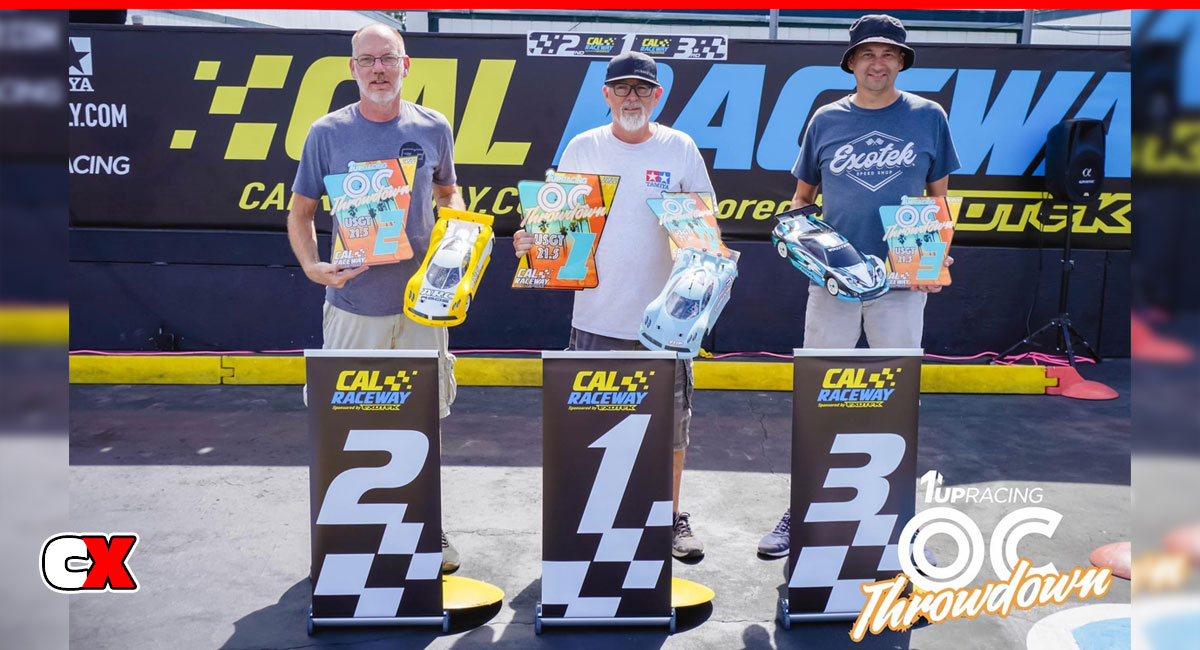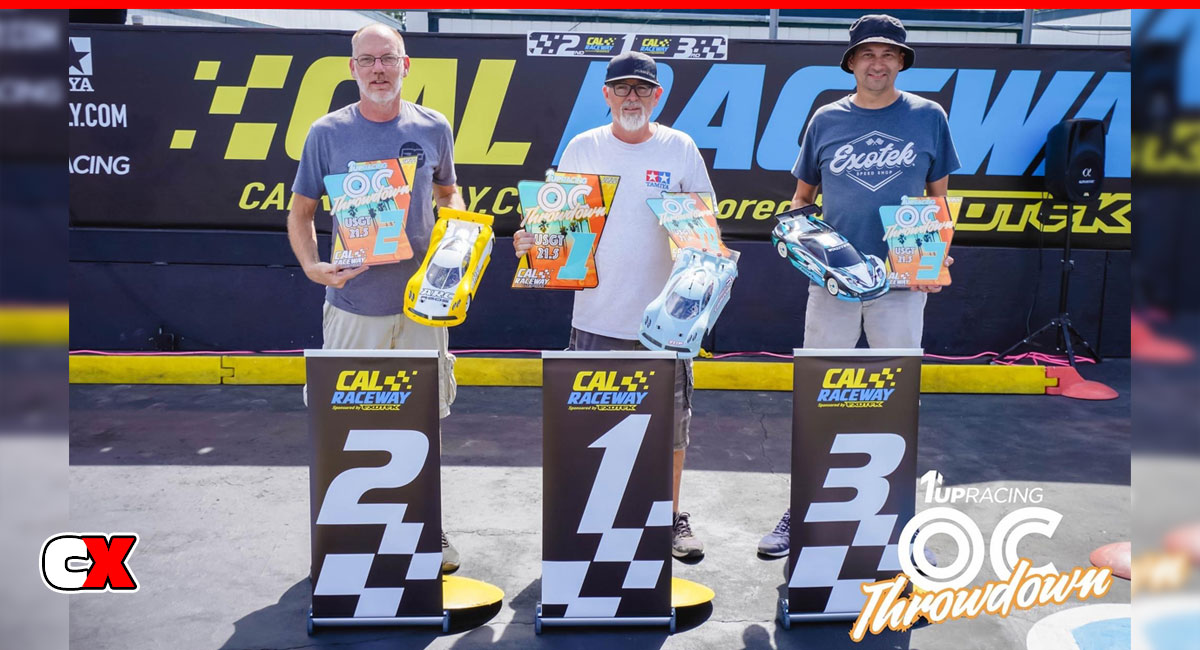 Formula 1
We're not going to go into all the specifics of the Formula 1 – in a nutshell, the car was decent but never really great. Tire selection is probably the culprit – all of my tires are in a storage unit and, since F1 was a last minute entry, we never had a chance to go and get them. We did have a couple decent runs but nothing magical and ended up finishing 5th overall. We're happy about that but for sure will be ready at the next race with a much better car.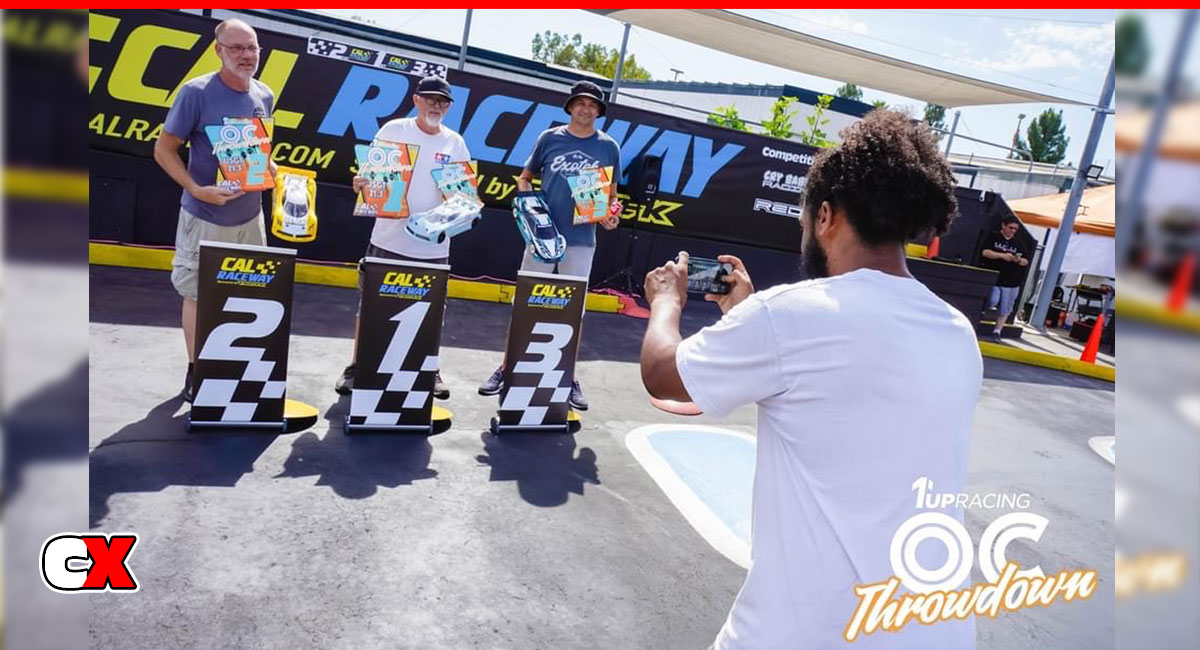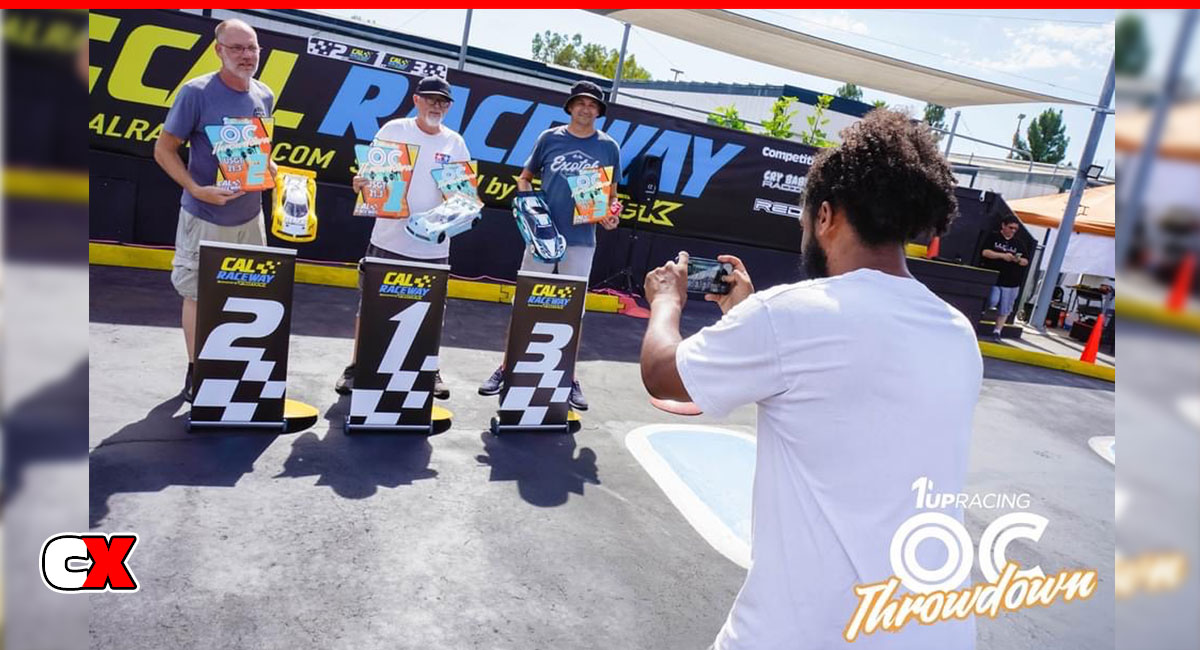 We're quite happy (and still a bit surprised) at the outcome of the race in BOTH classes. The competitive pool at Cal Raceway is quite deep and, on any given race weekend, there could be quite a few drivers that can win a race. The initial goal in the USGT class on Friday was Top 10, then Top 3 after the qualifying on Saturday (a little aggressive but we know the car was good), but no way did we think a P1 finish was in the cards.
Happy to say we did it.
Ok, now, on to the best part – the supporters of our racing endeavors!
USGT
Tamiya TRF419 Touring Car – Not the latest, not the greatest but definitely a winner. This car will be in our stable for a long time.
R1 Wurks Digital 3 ESC – Exceptional power all weekend long, even in the high heat.
R1 Wurks V21 21.5T Motor – More of that exceptional power!
Hitec RCD DB778WP Low Profile Servo – New addition to the gear, so glad we made the move. Excellent choice for TC.
ProTek RC HV 2S 8600mAh LiPo Battery – Mega juice engaged! Never a falter with this pack!
Futaba T10PX Radio System – Nothing like being completely connected to your car – with 10,000 adjustments.
Exotek P1-Z USGT Body – Lots of choices out there, this one will continue to be our for it's superior handling.
Track Star RC Gold Tire Sauce – For keeping us glued to the track!
Formula 1
Exotek F1 ULTRA – Amazing F1 car! Traction for days! on almost any tire!
Tekin RS GEN3 ESC – Tons of features, tiny footprint. On-The-Fly 3rd Channel Drag Brake is a game changer.
R1 Wurks V21 25.5T Motor – Insane power for a 'slower' motor.
Hitec RCD DB777WP Low Profile Servo – Definitely fast, definitely strong, DEFINITELY overkill! But definitely worth it.
ProTek RC HV 2S 4800mAh LiPo Battery – Power-plant of the F1. Could drive for days on this pack.
Futaba T10PX Radio System – Just like in USGT, you really feel connected to the car.
Track Star RC Gold Tire Sauce – For keeping us glued to the track!
Gallery