It's not often that a diamond in the rough peeks its pearly whites at you but, when it happens, sometimes you have to take a chance – and that's what we did with the new Coleoptera from UDI RC.
This little bug is not the norm – it's 1/16 scale, it's from a company not particularly well-known in the US, it retails for under $90 and it has a brushed setup – not something most people are searching for. However, UDI did package it with a stellar looking Beetle body which really caught our eye, so we thought we'd take a look at it.
And we are SOOOOO glad we did.
Read on and you'll get some insight on the Coleoptera (from here on out called the Beetle) and why it might be an underdog favorite this year!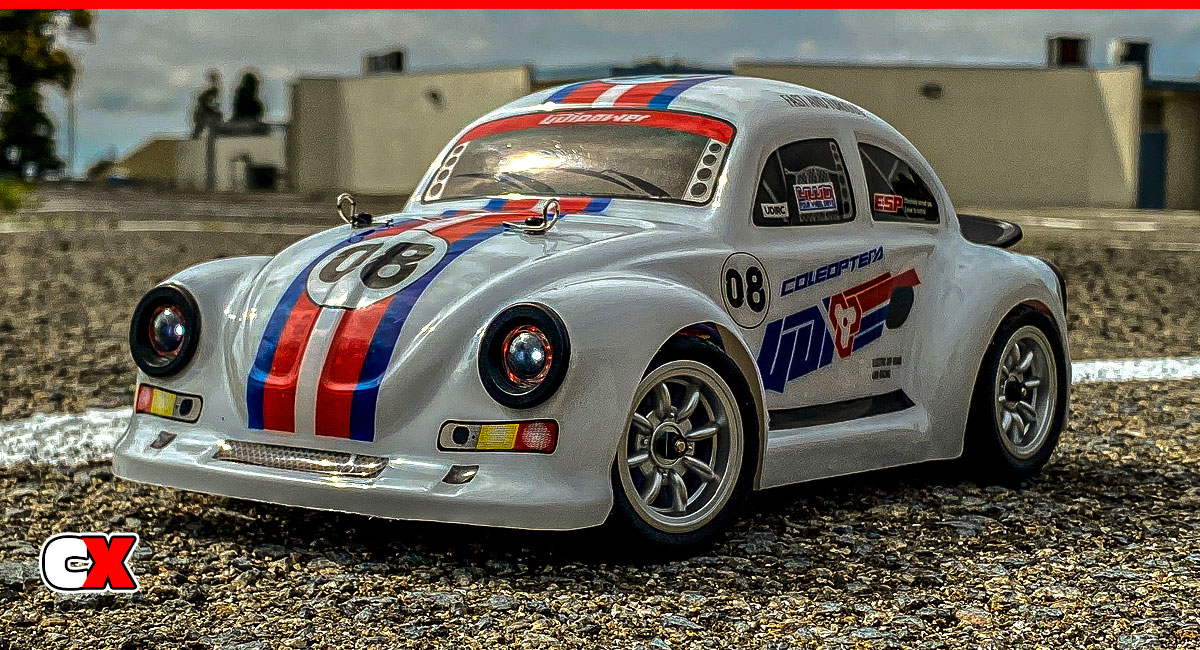 Specifics
Product:
UDI RC Coleoptera
Website:
udirc.com
Purchase:
https://bit.ly/3krPhRR
Part #:
UDI1608
Scale:
1/16 Scale
Price:
$89.99
Build Type:
RTR
Recommended For:
A fun little car for anyone in the family.
What's Included
Other than 4 AA batteries, everything you need to get the Beetle up and running is included in the box – car, transmitter, battery and USB charger. It even includes a few tools and a separate set of drift tires.
What's Needed
• 4 AA Batteries

Main Features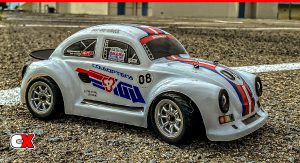 1. As we mentioned before, that VW Beetle body was what really hooked us. We absolutely love the look and its tuner styling – the lowered stance, front valance, rear 'whale tail' and diffuser with dual exhaust – the whole package just works. There's even a dual-stage headlight setup – white headlights and a red ring – both controlled through a 3rd channel on the radio. The graphics set is ok but not a deal breaker by any means, but we've got some plans to fix that! UDI even finished if off with a great looking set of Panasport-style wheels wrapped in some deep-tread street tires.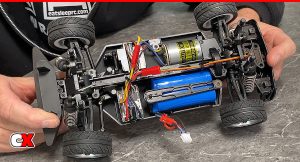 2. The chassis layout resembles some of the past 1/18 scale rides with a few minor changes. The front has a capped differential housing with a dual bellcrank steering sitting right behind. The electronics are next – ESC/receiver/light controller and Li-Ion battery on the left, servo, chassis-integrated power switch and motor on the right. A metal driveshaft splits the electronics and ends at a centralized spur gear. This assembly is butted up against the rear diff housing. A plastic top plate bridges both ends of the car with an integrated cap to help seal the main drive gears.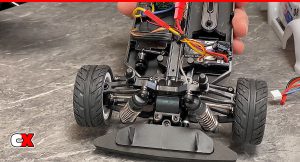 3. The suspension on the Beetle is pretty standard, comprised of upper and lower control arms, steering blocks and rear hubs and coil over shocks. The arms (they are the same front to back) use screw pins up top to swivel on (that might need a tick of adjustment) and an actual hinge pin on the bottom. The shocks are friction units with pre-load spacers to manage ride height. Long springs are included that are super-compressed by the pre-load spacers – take those out right away to help with some of the springy suspension. CVA drives up front and dogbones out back connect to a front/rear grease-filled differential. The diff action is a bit tight, probably to make the Beetle drift a bit better. This is on our list of things to show you how to tune in a later video.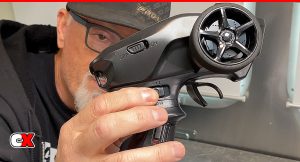 4. The included radio system is quite nice – a full-size, 4 channel setup that has all the features you need. On the top, it has your basic functions – steering trim, steering dual rate, throttle and steering reverse as well as ESP +/-. On the side, there is Channel 3 (push button for the lights) and Channel 4 (a 3-position 'speed' slider). The steering wheel has a cushy foam surround and the throttle trigger is positioned well – no odd stretching for forward or braking action. The ESP +/- is actually for the gyro control – you can increase or decrease it's power without having to be near the car. We reduced it to about 25% as that seemed like the best area for going straight and some fun, slight drifts.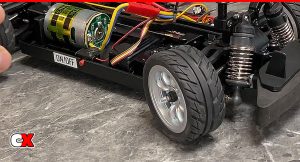 5. The Beetle comes equipped with a set of great-looking set of wheels and some very deep-tread tires. We ran the Beetle on multiple surfaces and these tires did great. UDI also included four drift tires that were pre-mounted on a set of sharp-looking 5-spoke wheels. Simple drop these on and the Beetle becomes a totally different animal. This is where that ESP +/- really comes in handy…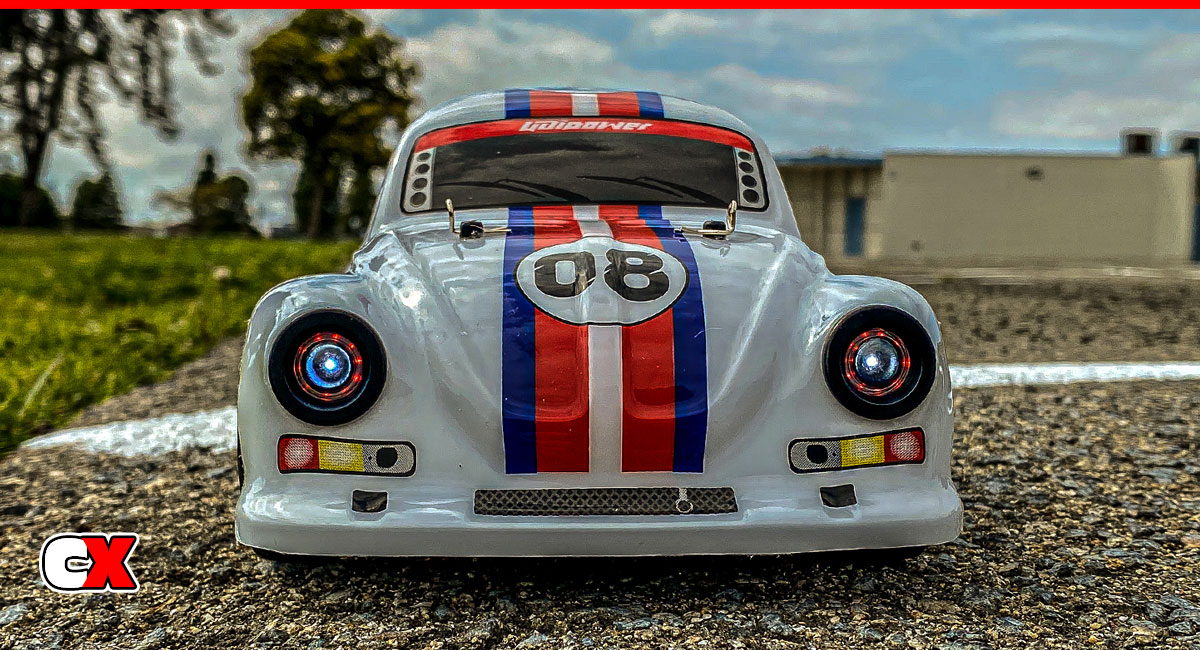 Performance
We took the Beetle to three different locations: a park with lots of area to run (concrete, asphalt and a padded-foam playground), a racquetball court for some drift action and, finally, Cal Raceway to see how it might perform on a track. Long story short, something was up with the UDI's receiver system and it didn't like the track. Maybe it was all the chain link fencing messing with the signal or it was actually getting blasted by all the other 2.4GHz radio systems, but it just wouldn't make it around the course without some sort of interference. We'll be doing some more research on this because, honestly, it looked really cool blasting down the straight!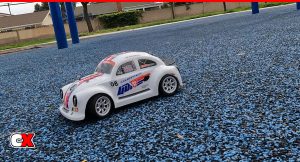 Speed
Since the Beetle is 1/16 scale, powered by a 1200mAh Li-Ion and contains a brushed system, we weren't expecting massive speeds but, in all fairness, it was fast enough to put a smile on our face. The radio has 3 speed modes – low-speed, mid-speed and high-speed – obviously the high speed mode 3 being the fastest. The Beetle scoots around at a good pace – you can see the different speed variations in the video. If you have kids (or a small space), the low- and mid- settings would be perfect. It's fast enough to be fun but not so fast that it's out of control. We're not even sure you'd need the ESP set all that high.
Handling
We were impressed with the handling for a $90 car. Yes it is a bit ragged when hitting bigger bumps (those friction shocks aren't helping), but on flat surfaces it had good steering and rear grip. The tires feel solid on the asphalt and padded foam with just a hint of slip on concrete. If you feel like it's hard to drive, simply up the ESP a bit and wah-lah, you're now a Pro. During a moment of driver error, we ended up in a bark-filled section at the park and, well, just went with it. Surprisingly enough, the Beetle blasted through the area with ease, only getting caught a couple of times. While we normally wouldn't recommend that, it was quite fun seeing the Beetle do beetle things – like digging up all that dirt!
Suspension
Albeit a bit over-sprung, the suspension on the Beetle is just fine. The plastic parts are strong, the bearings are smooth and the steering is more than acceptable. It was able to soak up everything we threw at it (including a few jumps), however, again, we highly suggest removing the pre-load spacers to help reduce the amount of bounce the car has. UDI also includes a shorter set of steering link – we would suggest dropping those on as well. Our only gripe with this car is the lack of suspension tuning but, for a complete ride for $90, we can't really be that picky.
Durability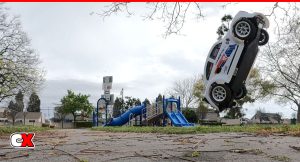 Ummm, we did unintentionally test the durability of this little guy. While heading back to the house, we drove over a small ramped part of the sidewalk and launched the Beetle. Our mind, instantly: "OOOOO – we gotta film that at full speed!!!". Well, with only two attempts on record (thanks to a dying Li-Ion pack), the first one launched with a not-so-straight trajectory while the other just completely missed the 'ramped' part of the sidewalk. Boom. Stopped. Like, IMMEDIATELY stopped. We just knew there had to be something wrong – broken front bumper, pierced body, battery dangling on the inside, SOMETHING. Nope, the Beetle took the hit like a champ and continued on its merry way home.
Additional Notes
After a quick re-charge, we swapped out the treaded tires for the drifters and headed to a racquetball court near the house. Perfectly flat and slick with a bit of dust, this was going to be a perfect place to test out the Beetle's drifting chops.
It took us a few tries to get the handling down but, once we did, it did provide some good fun. Now, we're not drifting experts by any means, but we were still able to get the Beetle to perform some nice slides. The ESP setting was definitely helpful, however you really need to fine-tune this to your liking. It took us awhile (and lots of adjustment) to finally find that sweet spot.
Gallery

Final Thoughts
For a $90 car, the Coleoptera provided quite a bit of fun in both street and drift modes. We LOVE the look of it and, in fact, have some new styling ideas in mind to turn it into a bit more of a wild ride.
Do we want to drive it again? Yes.
Do we want to modify it to go faster? Duh.
Do we think it's worth the price? Without a doubt.
We not only think the UDI Coleoptera is a great 'fun' car, it's also a great beginner car for family or friends to play around with. All for UNDER $100. You can't beat that deal!