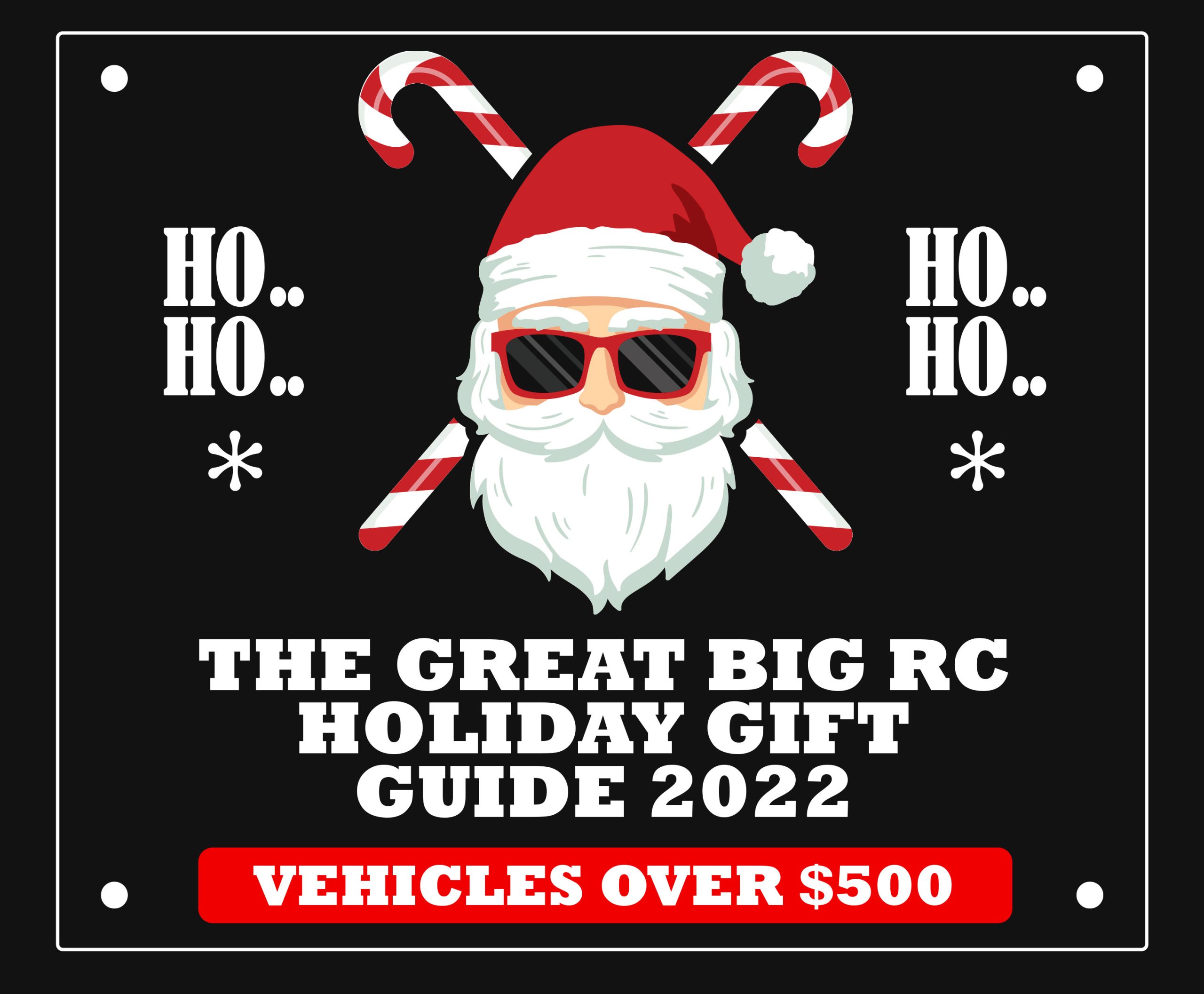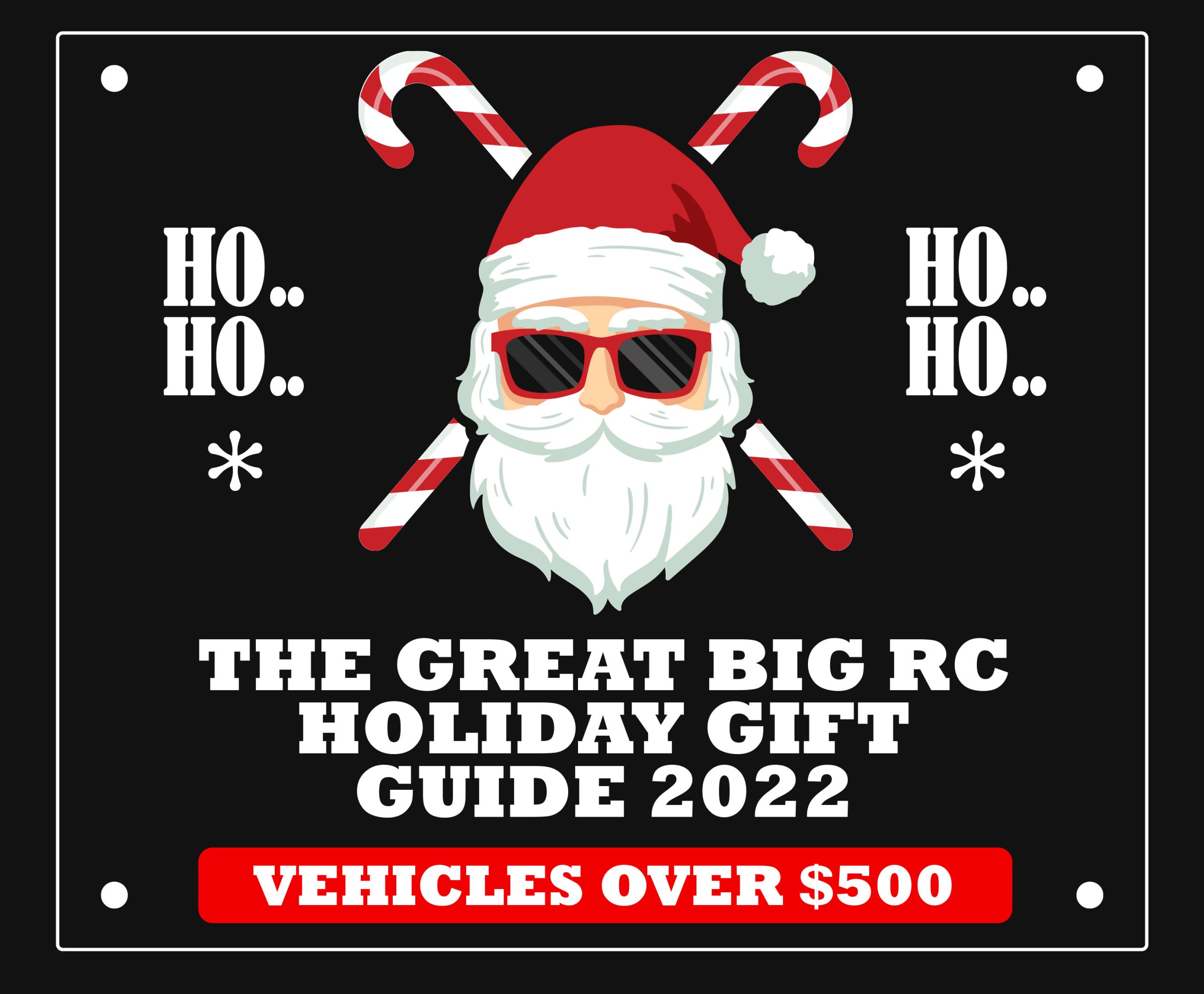 Part 5 of The Great Big RC Holiday Gift Guide 2022 is all about big boys (or girls) and their big toys – the best of the best, the cream of the crop and some of the most expensive RC gear you can own. While the price tag goes up, so does the amount you get – BIG cars and trucks that can posts speeds upwards of 70+mph, fly HIGH off jumps while doing backflips, haul some pretty sizeable loads and creep up the most insane rock formations.
We got it all in this list for the person that has everything – except one of these awesome RC toys! YOU can fill that gap for them – let's check 'em out!
Money-Is-No-Object Vehicles Over $500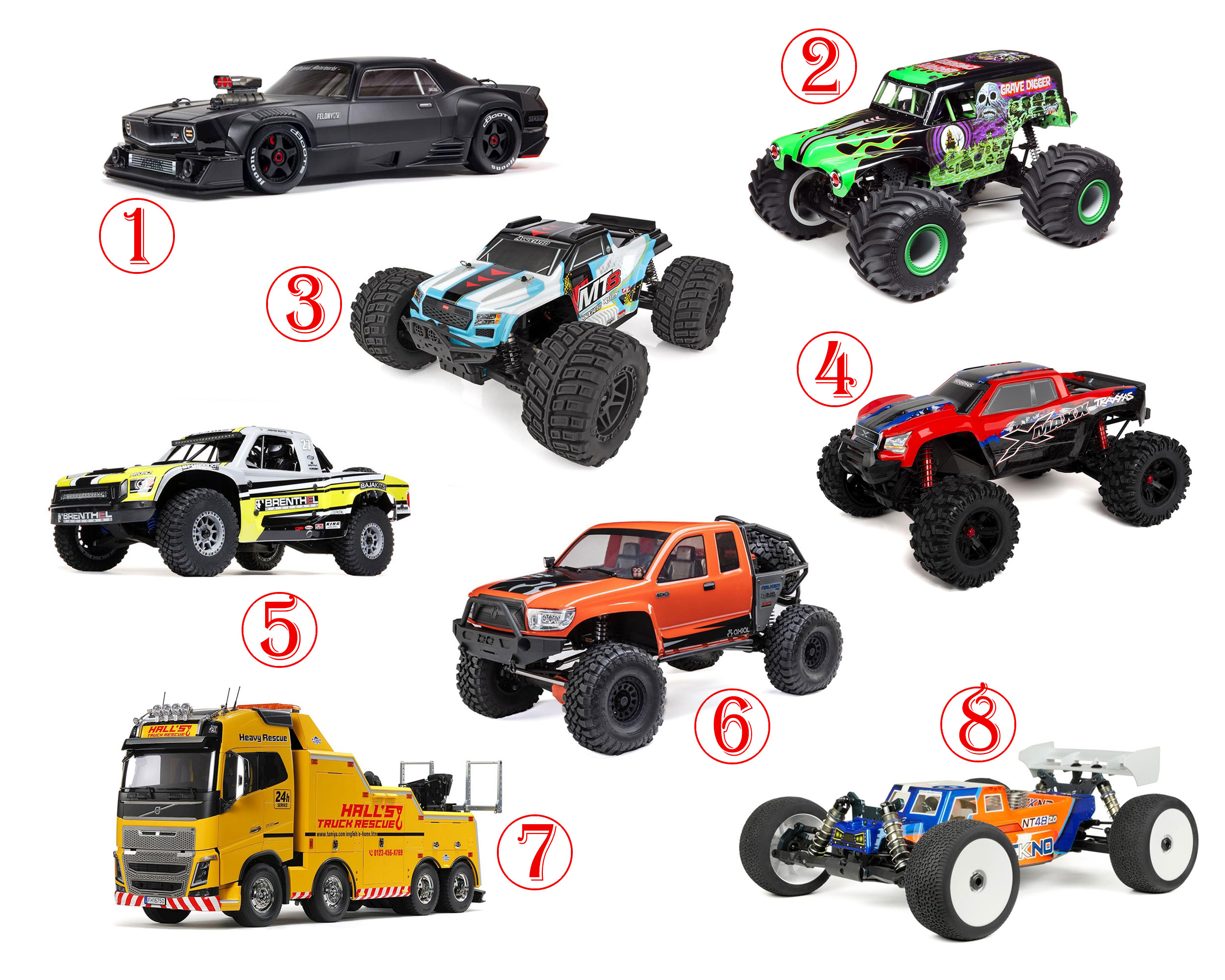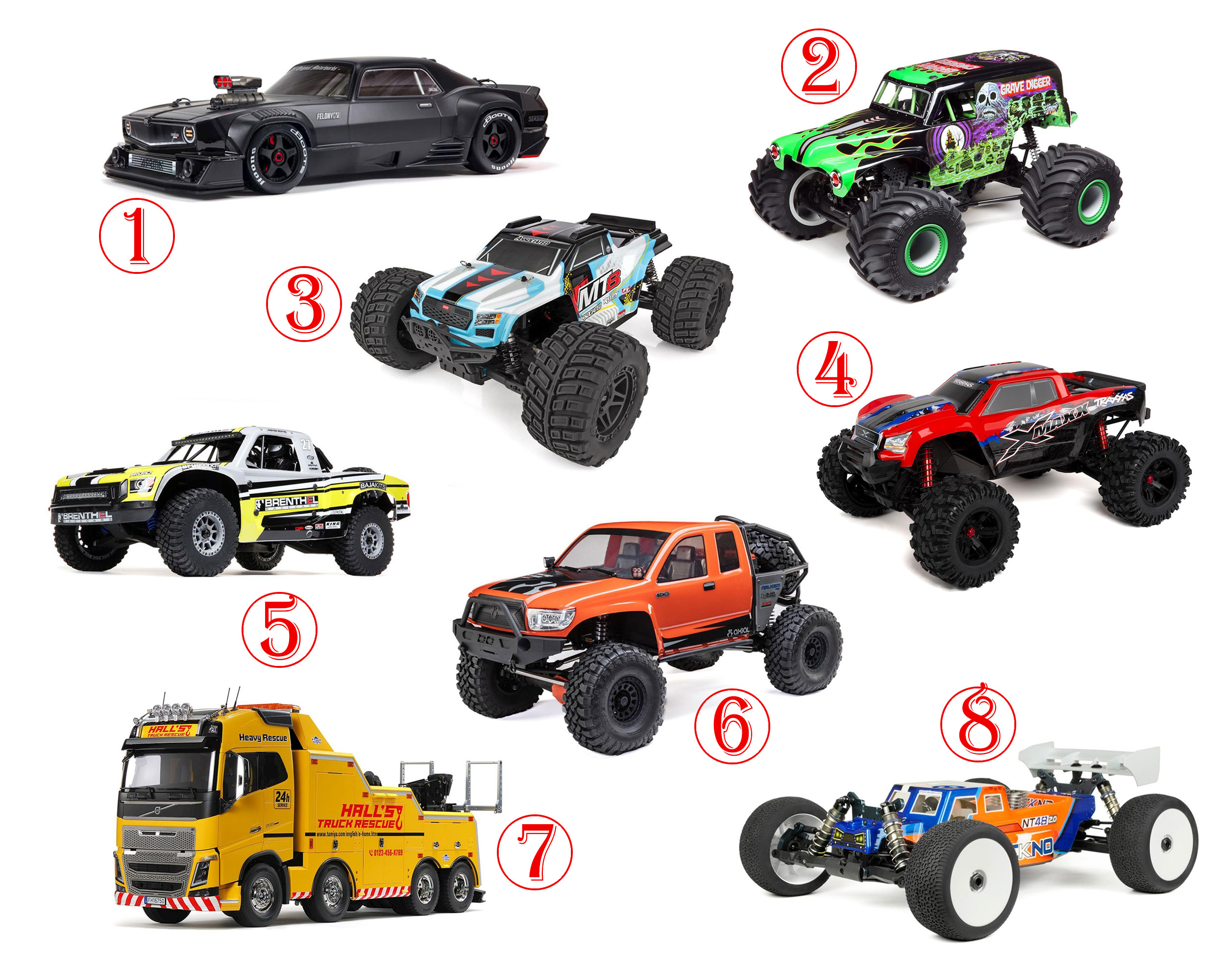 1. ARRMA Felony 6S BLX Street Bash Muscle Car RTR – ARRMA's Felony is a rip-roaring road rocket that looks just as fast sitting still as it does passing the 80+mph mark! It's large size (1/7 scale) helps keep it planted while the 6S Spektrum power system pushes all of that air out of the way. It's also built like a tank, with reinforced plastic and aluminum bracing to stiffen the chassis for serious road duty. This is one insanely fast car!
2. Losi LMT Grave Digger Monster Truck RTR – The most iconic name in Monster Trucks – Grave Digger – is now available on the Losi LMT platform. This MT replicates its full-sized counterpart with twin solid axles, a scale roll cage, long travel shocks and a brushless system that is extremely over-powered. A flip-top body/cage allows easy access to the internals and it even includes a molded driver figure!
3. Team Associated RIVAL MT8 Monster Truck RTR – Power. Performance. Two things the RIVAL MT8 does well. Add good looks and a serious attitude problem and this truck will blow your mind with it's ability to jump, flip, cross any terrain and kick a roost of dirt or sand a mile long. Its large size and monster power (on 6S) make it one mean truck at full throttle!
4. Traxxas X-Maxx 8S Monster Truck RTR – The Maxx name has been in the Traxxas stable for a very long time, but the truck just keeps getting better and better. Now sitting at a monstrous 1/8 scale, this 8S capable beast defines Monster Truck power with speeds exceeding 50mph! Long arm suspension, bulletproof drivetrain and a great look (in a variety of colors), the X-Maxx really does fit under Traxxas' motto: The Fastest Name in Radio Control!
5. Losi Super Baja Rey 2.0 RTR – A rig for the desert crowd, the 1/6 Super Baja Rey obliterates the sand and dirt thanks to its massive 8S LiPo compatibility! On top of all that performance, the SBR 2.0 gets and A+ in looks, featuring a stellar-looking body set complete with roll cage, driver, spare tires, fire extinguishers and a pair of LED lightbars!
6. Axial SCX6 Trail Honcho Rock Crawler RTR – The SCX6 Trail Honcho doesn't go fast, but it does make up for that with the ability to pretty much go anywhere! Its 1/6 size, 7″ tall tires and super smooth power system lets the Trail Honcho scale rock formations like a billy goat! The high clearance bumpers, durable 3-link suspension and AR90 axles all work in unison to pull the SCX6 up and over obstacles like no other crawler – and that body set – simply stunning!
7. Tamiya Volvo FH16 Globetrotter 750 8×4 Tow Truck Kit – For those that like the big rigs, Tamiya's Tow Truck kit is certainly a list topper of trucks to get. It comes in kit form – a modeling builder's dream – and is chock full of detail to create an amazing rolling masterpiece. There's even a pneumatic option to remotely raise and lower the boom!
8. Tekno NT48 2.0 Nitro Truggy Kit – This Christmas list just wouldn't be complete without a race-level kit, so we bring to you Tekno's newest nitro Truggy kit, the NT48 2.0 (and E-version is available as well). This Truggy is a top-of-the-line race ready ride with proven features that have put it on the podium many times. That being said, reinforced plastic and high-strength aluminum parts abound with performance to match. The NT48 2.0 is a sure fire way to get into racing at a very competitive level!
Check out the other Holiday Gift suggestions listed below:
Part 1: Favorite Pit Items
Part 2: Stocking Stuffers
Part 3: Budget-Friendly Vehicles Under $175
Part 4: Mid-Level vehicles under $350
Part 5: Money-Is-No-Object Trucks over $700