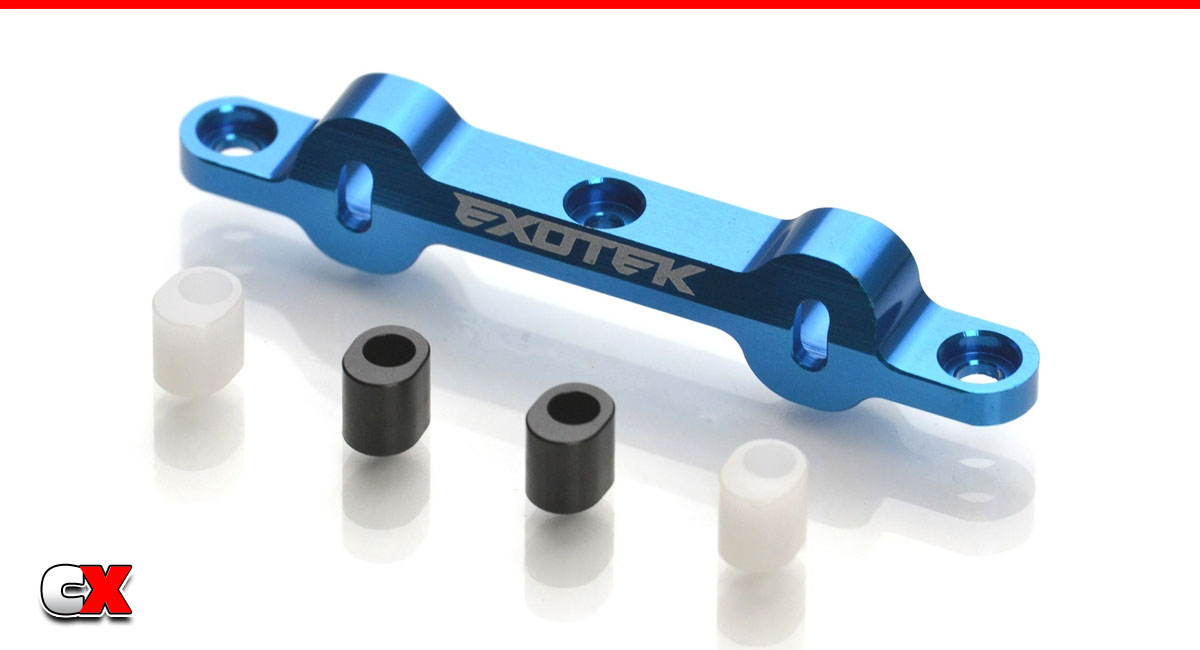 With the No Prep Drag Racing scene exploding, everyone is looking for little extra something to make their car faster down the 1320. That said, Exotek has added another go-fast goodie to its DR10 hop-up list – an aluminum rear arm mount with optional inserts. The mount is machined from 7075 alloy with press-in inserts that allow you to change the rear toe of your ride with options from 0°, -1°, -2° or -3°.
What We Like:
Less toe in the rear can translate to more straight line speed. The ability to remove some of that rear toe is key, and this system makes it easy as pie with the included inserts. It also has, of course, Exotek's excellent parts quality as well as a nice little guide to show you how to press the inserts in. It's an easy tuning part to install with maximum gains potential!
What We're Not Sure About:
This should be beneficial for most drivers, however removing toe in the rear could cause some stability issues at speed. We suggest trying this is 1° increments – because if you go big, you might be going home – with your car in pieces!
2022 Exotek HD Aluminum 'C' Arm Mount – AE DR10

For more information, please visit: www.exotekracing.com
When buying Pro-Line product directly on their site, don't forget to use the code COMPETITIONX to save 10% on your order!
Check out Exotek Racing products at AMain Hobbies.
Check out more cool products from Exotek Racing on CompetitionX.
Make sure you visit and subscribe to our YouTube Channel (CompetitionX YouTube) for up to date videos on all the current products!
Notice: Some of our articles, videos and descriptions may contain affiliate links, which means that if you click on one of the product links, we may receive a small commission. This helps support the website and social media channels and allows us to continue to produce content. Thank you for the support!
#exotekracing #rccars #competitionx