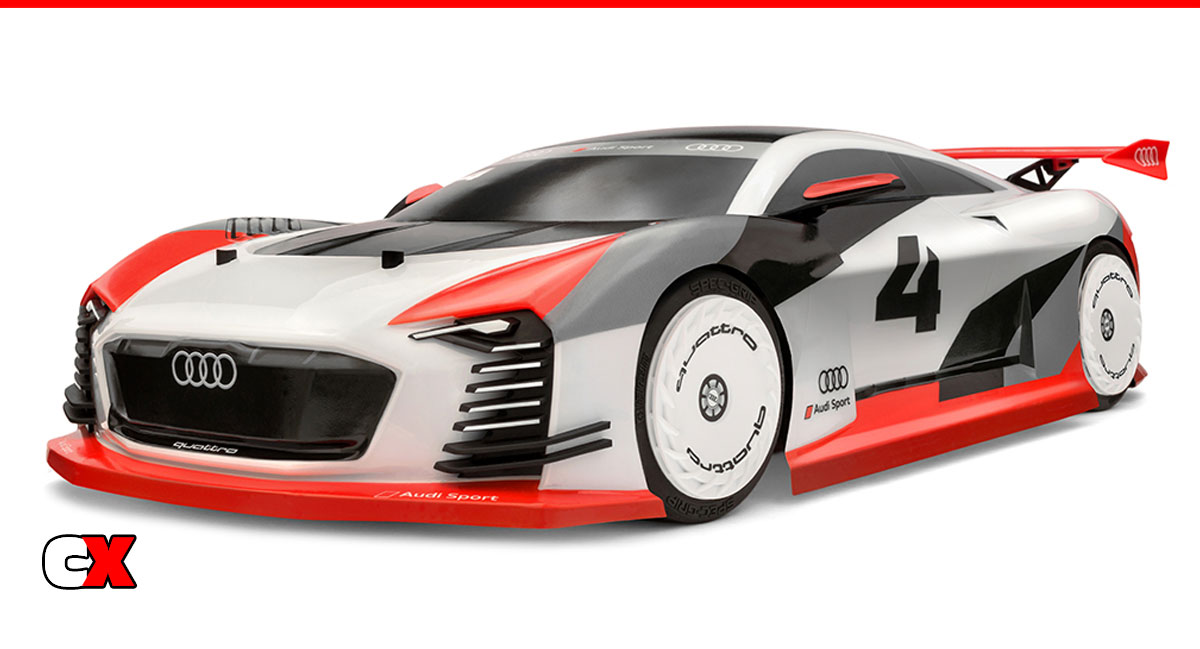 A few days ago we posted the teaser photos of a new TC from HPI – well, the Audi i e-tron has landed!
This new ride is based on the Sport 3 FLUX and features a completely sealed full-time 4WD, shaft-drive drivetrain, 4-wheel independent suspension and oil-filled shocks. Power is provided via HPI's waterproof 3S-compatible FLUX system that can push the e-tron to over 70mph!
The body looks amazing and mimics Audi's i e-tron Vision GT touring car. The front and cab is low and sleek with the rear having a 2-piece design with all kinds of crazy detail. Even the wheels are an awesome-looking turbo-dish design!
What We Like:
HPI has always been known for some really cool body and wheel designs – this Audi i e-tron is no exception! On top of that, the fact that this tiny 1/10 scale sits on a chassis that is capable of 70+mph right out of the box – surely a ride RC speed demons will want in their stable! We're looking forward to putting one of these to the test both in the parking lots and on a track!
What We're Not Sure About:
We're happy to see HPI's revival in the near future, we just hope that parts availability aren't far behind. It will be awesome to have this great company back in the limelight!
160202 HPI Sport 3 Flux Audi i e-tron Vision GT Touring Car

For more information, please visit: www.hpiracing.com
Check out HPI Racing products at AMain Hobbies.
Check out more cool products from HPI Racing on CompetitionX.
Make sure you visit and subscribe to our YouTube Channel (CompetitionX YouTube) for up to date videos on all the current products!
Notice: Some of our articles, videos and descriptions may contain affiliate links, which means that if you click on one of the product links, we may receive a small commission. This helps support the website and social media channels and allows us to continue to produce content. Thank you for the support!
#hpiracing #rccars #competitionx