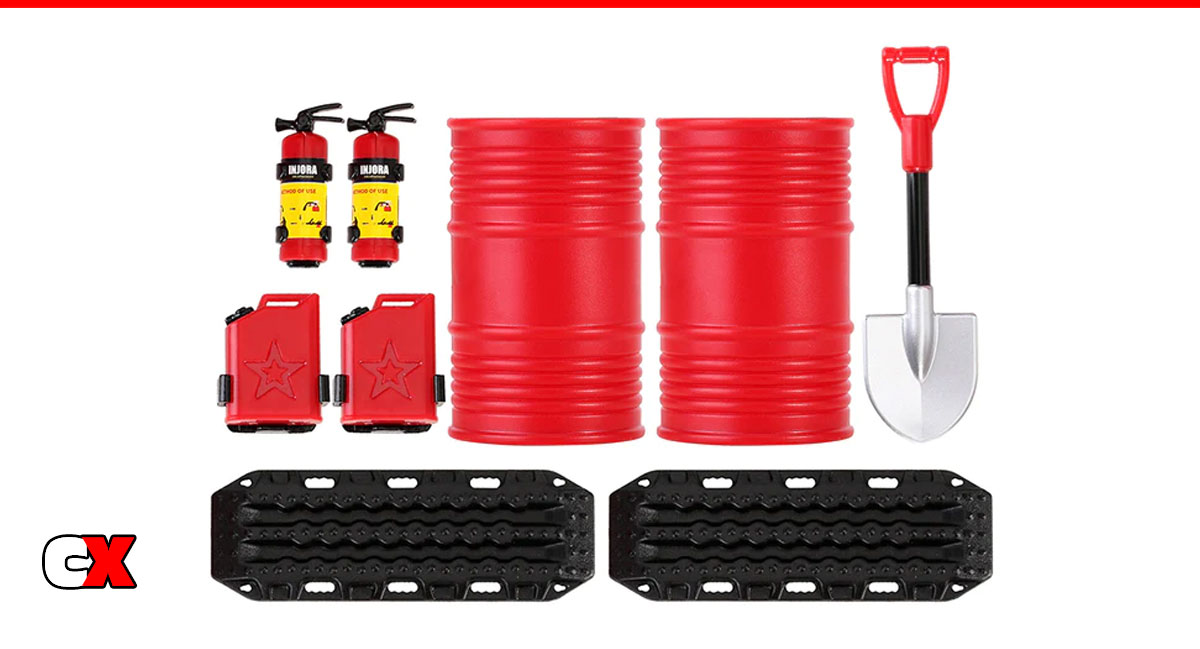 Smaller, 1/18-1/24 scale rigs can now look the scale crawler part thanks to these scale accessories from Injora.
A whole slew of scale parts are available – fire extinguisher, oil drums, shovel, sand ramps, jerry cans and cargo netting – all sized down to fit the part for your 1/18 or 1/24 rigs! There are a couple different color options available – the sand ramps can be had in red or black and the cargo net comes in either brown, orange, red, yellow, green or black.
Quick Stats
Product: Injora Micro-Scale Trail Truck Accessories
Part #: Varies
Scale: 1/18, 1/24
Price: Range from $2.99 to $16.99
Build Type: n/a
BUY NOW: https://bit.ly/3vcMyOP
Features
• Scale by INJORA 1/24 Scale Combo Packs are a great way to add micro size detail to your micro size rig.
• These 1/24 scale items look great, they are plastic injection molded, more exquisite than 3D printing.
• 1/24 Scale fuel tank, also known as Jerry Cans, are a great way to add some livery to your rig with little fuss. Jerry Cans come pre-painted in red with silver caps for excellent detail.
• 1/24 Scale Fire Extinguisher Accessory. This fire extinguisher is constructed from plastic and is pre-painted for detail realism. This item is a great add-on for your scale rig and is a must have for your scale garage. Package also includes mount and hardware.
• Combo Pack A is specifically for the SCX24, includes a shovel, fuel tank, fire extinguisher and oil drum.
What We Like:
The smaller scale rides haven't seen as much love as the 1/10 scale rigs, so it's cool to see a company focusing a bit more on those. There is definitely a market out there and having a wide selection of product 'packs' lets consumers pick and choose their favorite parts.
What We're Not Sure About:
Nothing. I'm sure we'll be seeing more companies start latching on to this trend.
For more information, please visit: https://bit.ly/3vcMyOP
Gallery

Check out more cool products from Injora on CompetitionX.
Make sure you visit and subscribe to our YouTube Channel (CompetitionX YouTube) for up to date videos on all the current products!
Notice: Some of our articles, videos and descriptions may contain affiliate links, which means that if you click on one of the product links, we may receive a small commission. This helps support the website and social media channels and allows us to continue to produce content. Thank you for the support!
#injora #rccars #competitionx