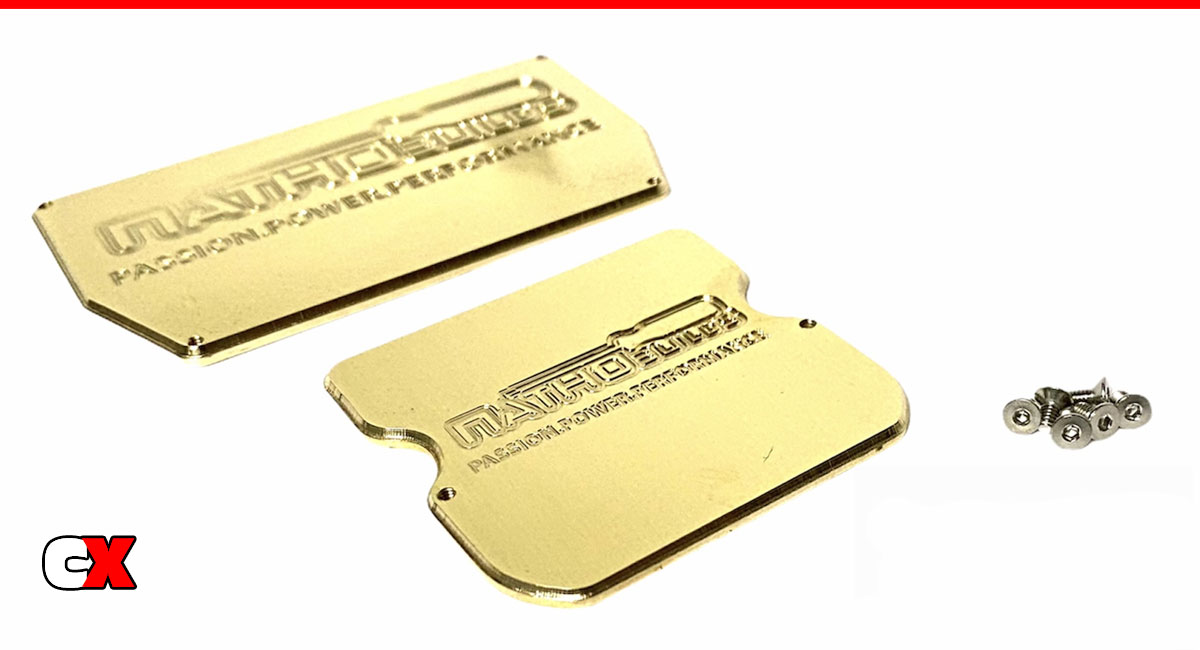 A new release from NathoBuilds – brass ESC and servo weights for the Team Associated B6. These weights measure 2mm thick and screw into the chassis of your B6 to add additional weight as low down as possible. They come with chamfered edges and the NathoBuilds logo etched into them. The servo weight adds 34g under the chassis while the ESC weight adds 49g. Both fit the entire line of 6-Series AE rides (B6,B6.1,B6.2,B6.3,SC6.1,SC6.2,T6.1,T6.2).
What We Like:
First off, we love that they use existing mounting positions – no drilling necessary and are easily removed when you no longer want to use them. The kits come with new hardware and fit perfectly into the milled areas of the chassis. This is a great tuning option for those looking to help keep your car planted!
What We're Not Sure About:
We've said this before about brass parts – a 'hard-coated' colored coating of some sort could offer a more stealth – we think black might look pretty trick as well!
NBB4007-2MM NathoBuilds B6 Brass Servo Chassis Weight
NBB4007 NathoBuilds Brass ESC/Servo Weights

For more information, please visit: www.nathobuilds.com
When buying Pro-Line product directly on their site, don't forget to use the code COMPETITIONX to save 10% on your order!
Check out more cool products from NathoBuilds on CompetitionX.
Make sure you visit and subscribe to our YouTube Channel (CompetitionX YouTube) for up to date videos on all the current products!
Notice: Some of our articles, videos and descriptions may contain affiliate links, which means that if you click on one of the product links, we may receive a small commission. This helps support the website and social media channels and allows us to continue to produce content. Thank you for the support!
#nathobuilds #rccars #competitionx