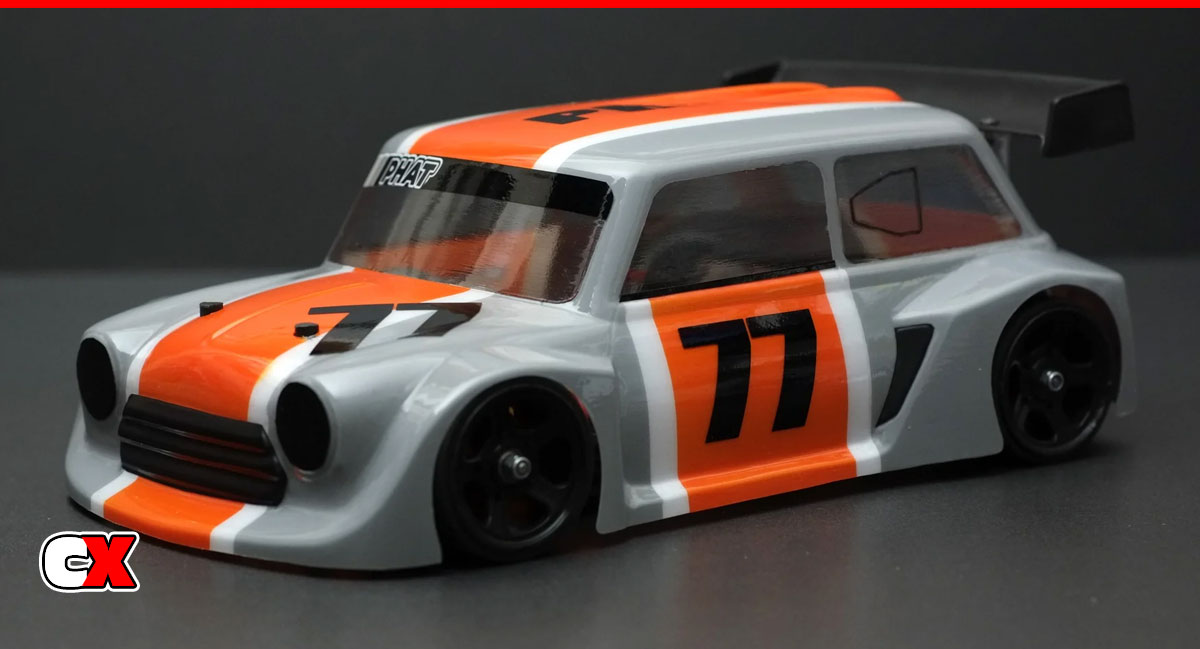 The Phat Bodies M.A.D. Mini shell is one hot-little lid that will work with your Mardave or Kamtec 1/12 scale rides. However, since we in the US don't have direct access to those types of cars, it's good to know that this body will fit on anything that is 160mm wide and a 175mm wheelbase. That will include quite a few rides we have here in the States.
It's a fun body, pulled from .7mm Lexan and comes clear with window masks, overspray film and a sticker sheet.
Quick Stats
Product: Phat Bodies M.A.D. Mini Body Set
Part #: n/a
Scale: 1/12 Scale
Price: $19.65
Build Type: n/a
BUY NOW: https://bit.ly/47U4RcA
What We Like:
The M.A.D. has a bit of a comical look to it, but with a very racey feel. That low profile front end, bulging fenders and rear wing all compliment the overall look of this body. We're feeling like we need one of these in our lives…
What We're Not Sure About:
UK based. $20 for the body is great, shipping might double the price.
For more information, please visit: www.phatbodies.co.uk
Gallery

Check out more cool products from Phat Bodies on CompetitionX.
Make sure you visit and subscribe to our YouTube Channel (CompetitionX YouTube) for up to date videos on all the current products!
Notice: Some of our articles, videos and descriptions may contain affiliate links, which means that if you click on one of the product links, we may receive a small commission. This helps support the website and social media channels and allows us to continue to produce content. Thank you for the support!
#phatbodies #rccars #competitionx
Random Past Posts
HPI's Q32 is a pretty fun little ride with it's spunky performance and quick handling (thanks to the foam tires). Now you can get that same entertainment with the Q32 …

What is Anti-Squat? Anti-Squat describes the angle of the rear inner hinge pin. If the pin is angled back (front mount higher than the rear), the result is Anti-Squat. The …

We have our REV2600 lightweight endplate for ReVtech spec & modified back in stock with a revised design that is stronger and allows better cooling management. We also have a …