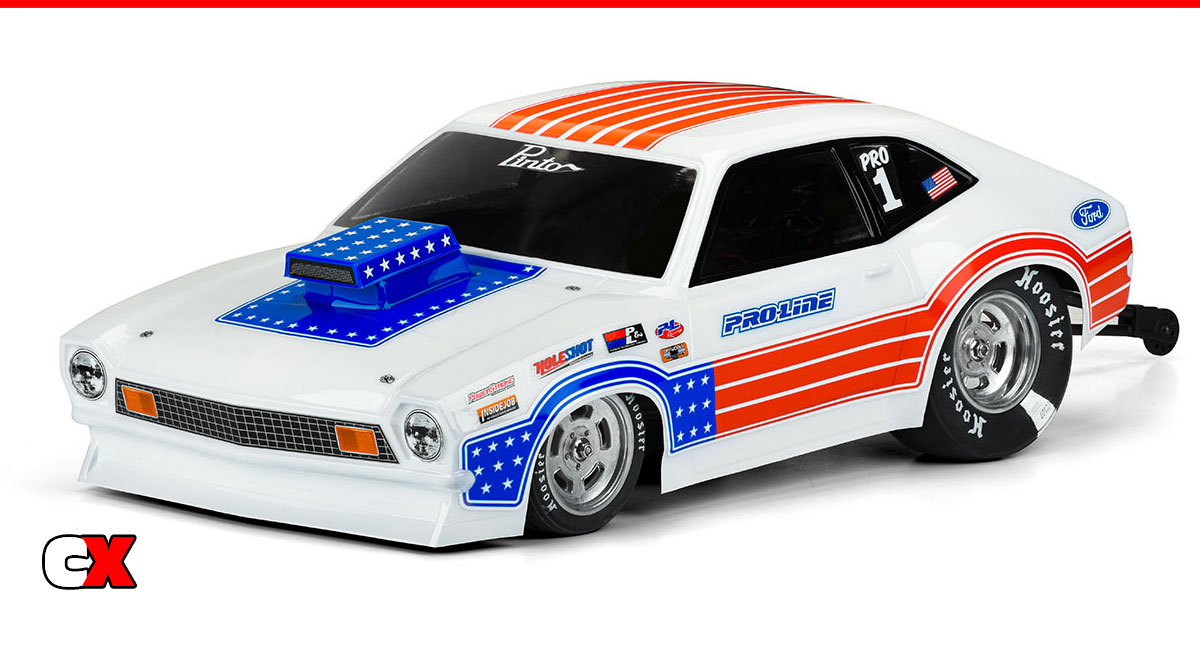 It's here – Pro-Line Racing's new 1972 Ford Pinto No-Prep Drag body set! This body is super cool and designed to fit a 'subcompact' drag racer with a wheelbase of 11.25″. It features a stubby look with bulging fenders, a separate hood scoop and a very detailed sticker sheet! Love it or not, it's a pretty sweet little ride!
What We Like:
Long ago, a buddy of mine pulled up to one of our hang-on spots in one of these. It was tubbed and had the full-on hood scoop with blown V8 engine – it was a beast! While there's been some division on the popularity of this body, I personally love the look and idea behind it. About to be a whole slew of SWB rides popping up at the local drag meets…
What We're Not Sure About:
While we do love it, it is a risky release seeing as the No Prep crowd seems to be very religious on their rides. However, it could be fun to see if this class picks up – just another class to race for those into this segment of the hobby!
3572-00 Pro-Line 1972 Ford Pinto Clear No-Prep Drag Body

For more information, please visit: www.prolineracing.com
When buying Pro-Line product directly on their site, don't forget to use the code COMPETITIONX to save 10% on your order!
Check out Pro-Line Racing products at AMain Hobbies.
Check out more cool products from Pro-Line Racing on CompetitionX.
Make sure you visit and subscribe to our YouTube Channel (CompetitionX YouTube) for up to date videos on all the current products!
Notice: Some of our articles, videos and descriptions may contain affiliate links, which means that if you click on one of the product links, we may receive a small commission. This helps support the website and social media channels and allows us to continue to produce content. Thank you for the support!
#prolineracing #rccars #competitionx