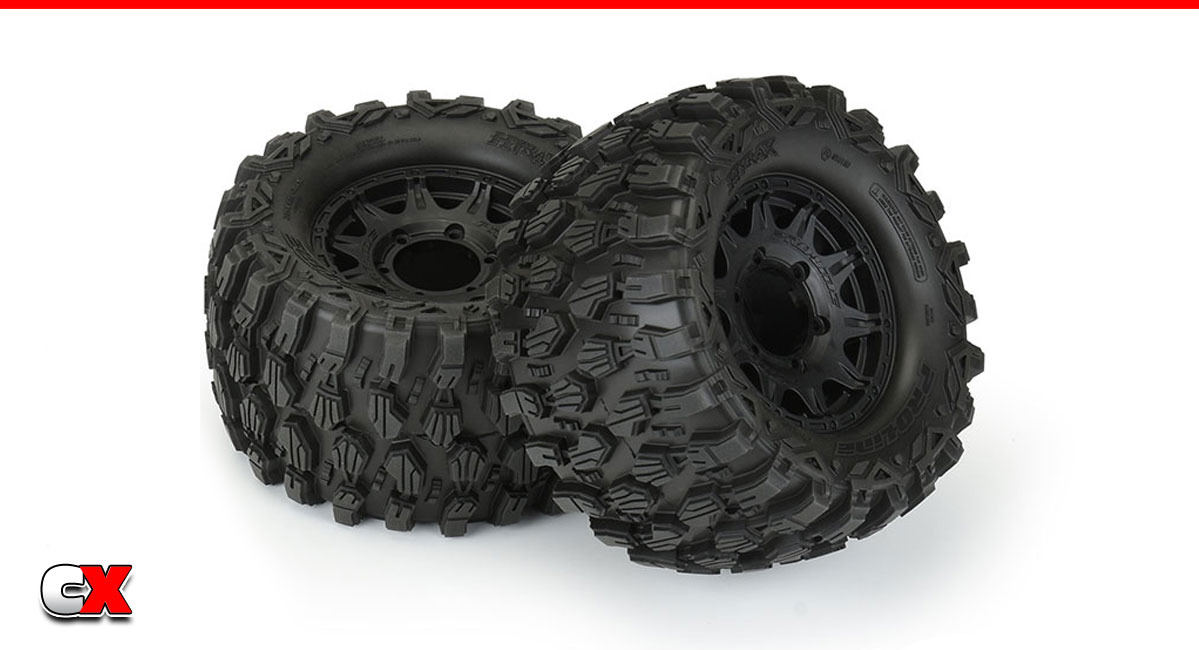 You can now get the awesome Pro-Line Racing Hyrax tires in 2.8″ size, perfect for 1/10 or 1/8 scale MT build! These tires are the go-to tire for 1/10 scale crawlers, providing a ton of grip on almost any surface. They come pre-mounted on Pl's Raid wheels with removeable hexes, allowing you to change the offset for different applications.
What We Like:
We LOVE LOVE LOVE the Hyrax tire, using them on almost every crawler project we have. The amount of grip is crazy, even when worn down (we have a set we've been using since they first came out). We have even used them on our 1/8 Scale Tekno DB8 Rock Racer with huge success! I can about imagine how well they're going to work as a general purpose MT tire!
What We're Not Sure About:
We can't think of anything on these we'd change – love the tire, love the wheel. Great job!
10190-10 Pro-Line Racing Hyrax 2.8″ All Terrain Pre-Mounted Tires

For more information, please visit: www.prolineracing.com
Don't forget to use the code COMPETITIONX when ordering directly from Pro-Line to save 10% on your order!
Check out Pro-Line Racing products at AMain Hobbies.
Check out more cool products from Pro-Line Racing on CompetitionX.
Make sure you visit and subscribe to our YouTube Channel (CompetitionX YouTube) for up to date videos on all the current products!
Notice: Some of our articles, videos and descriptions may contain affiliate links, which means that if you click on one of the product links, we may receive a small commission. This helps support the website and social media channels and allows us to continue to produce content. Thank you for the support!
#prolineracing #rccars #competitionx