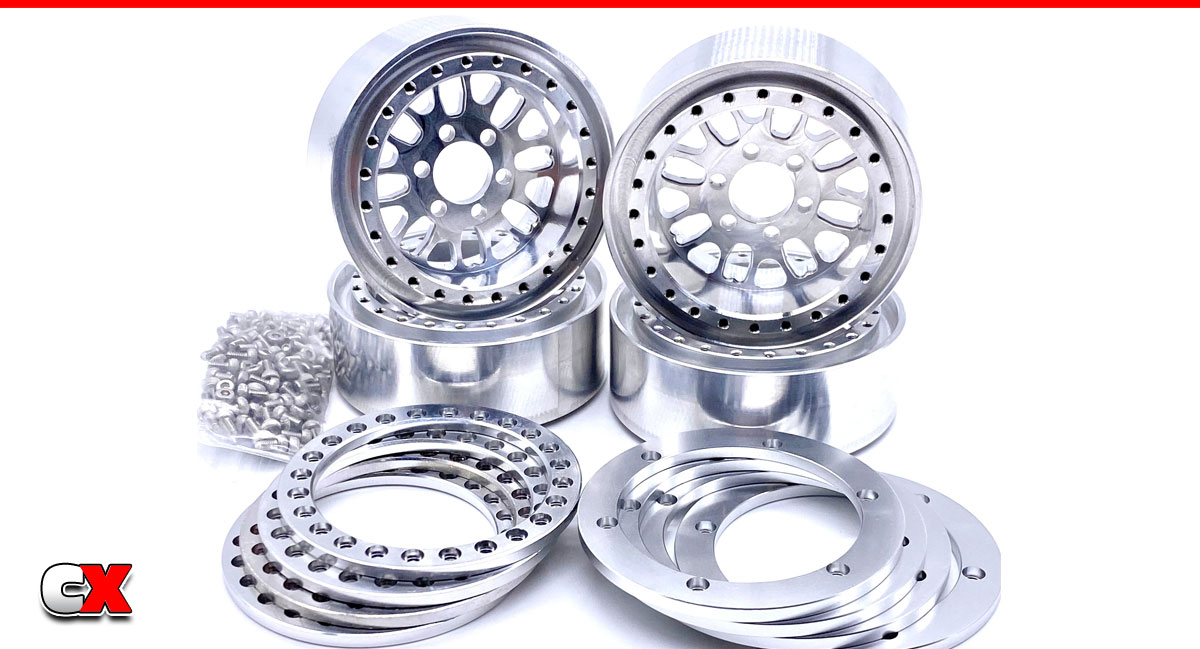 Reefs RC, yes, the bad-ass servo company, has been dabbling a bit in the aluminum wheel world. Their new rollers, the Fury, are CNC-machined billet aluminum wheels in 1.9″ size – and talk about gorgeous! They are available in a polished finish with metric hardware, are compatible with SLW hubs and your choice of either a natural or black outer ring.
What We Like:
Well, duh. These wheels are simply beautiful! They are 100% USA made with an actual beadlock design, so they'll be perfect for all kinds of offroad/crawling applications. Both sets (with natural and black) look great once mounted, and the monster-amount of hardware ensures fail-free operation.
What We're Not Sure About:
Two things, actually. The first is the fact that you're buying a set of wheels BUT, once purchased, you still need to buy something else to use them (the SLW hubs). Second, the price. Yes, I get it, making awesome stuff like this in the US ain't cheap, but for $165 I would expect the SLW hubs as well. The reason for this is probably simple, however: the wheels are universal, the hubs aren't (you sometimes need certain hubs for certain applications). You could, though, offer the wheels as one package with the hubs in another – the customer can choose their hubs.
Either way, these wheels are awesome looking and would be killer in ANY project you use them in.

For more information, please visit: www.reefsrc.com
Check out Reefs products at AMain Hobbies.
Check out more cool products from Reefs on CompetitionX.
Make sure you visit and subscribe to our YouTube Channel (CompetitionX YouTube) for up to date videos on all the current products!
Notice: Some of our articles, videos and descriptions may contain affiliate links, which means that if you click on one of the product links, we may receive a small commission. This helps support the website and social media channels and allows us to continue to produce content. Thank you for the support!
#reefsrc #rccars #competitionx