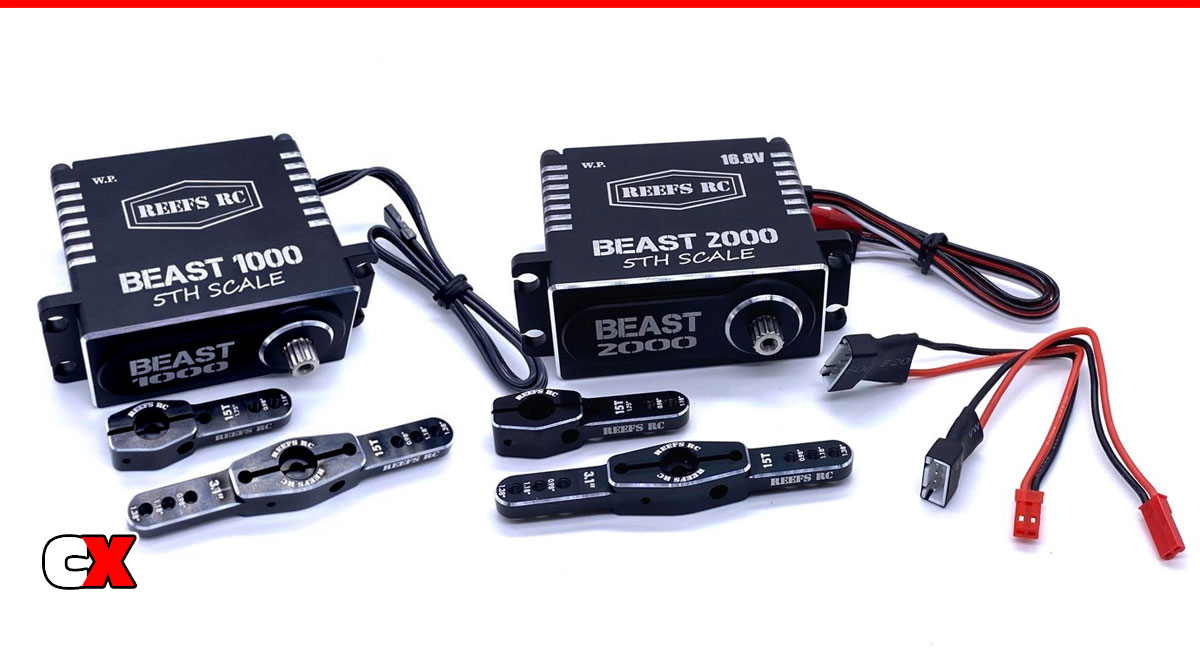 New from Reef's RC are these two large-scale servos – the Beast 1000 and the Beast 2000. Both of these are designed for 1/5 scale applications (as well as 1/4 scale) and are designed to give you maximum performance when used as a steering servo.
Both servos features aluminum cases, an all-steel internal geartrain, magnetic angle sensor and pulse-width modulation control. The Beast 1000's voltage can be from 6v-8.4v, while the Beast 2000 can be from 7.4v-16.8v!!! Yes, you read that right – 16.8v!!!
Beast 1000 Specs:
Length: 2.59in
Width: 1.18in
Height: 2.32in
Weight: 10oz/285g
Spline: 15T
Dead Band Width: 2uSec
Torque: 800oz @6v / 900oz @7.4v / 1080oz @8.4v
Speed: .11sec @6v / .095sec @7.4v / .08sec @8.4v
Beast 2000 Specs:
Length: 2.59in
Width: 1.18in
Height: 2.32in
Weight: 10oz/285g
Spline: 15T
Voltage 7.4V – 16.8V
Torque: 1000oz @10v / 1250oz @11.1v / 1450oz @12v / 2000oz @16.8v
Speed: .10sec @10v / .11sec @11.1v /.10sec @12v / .09sec @14.4v / .08sec @16v
What We Like:
These two servos are monsters and should provide a TON of power for whatever 1/5 scale application you put them in. The specs are through the roof in terms of speed and power and, at 16.8v for the Best 2000, 2000oz and a .08 speed is pretty amazing!
What We're Not Sure About:
This kind of power does come at a cost – about $390 for the Beast 1000 and $450 for the Beast 2000.

For more information, please visit: www.reefsrc.com
Check out Reef's RC products at AMain Hobbies.
Check out more cool products from Reef's RC on CompetitionX.
Make sure you visit and subscribe to our YouTube Channel (CompetitionX YouTube) for up to date videos on all the current products!
Notice: Some of our articles, videos and descriptions may contain affiliate links, which means that if you click on one of the product links, we may receive a small commission. This helps support the website and social media channels and allows us to continue to produce content. Thank you for the support!
#reefsrc #rccars #competitionx