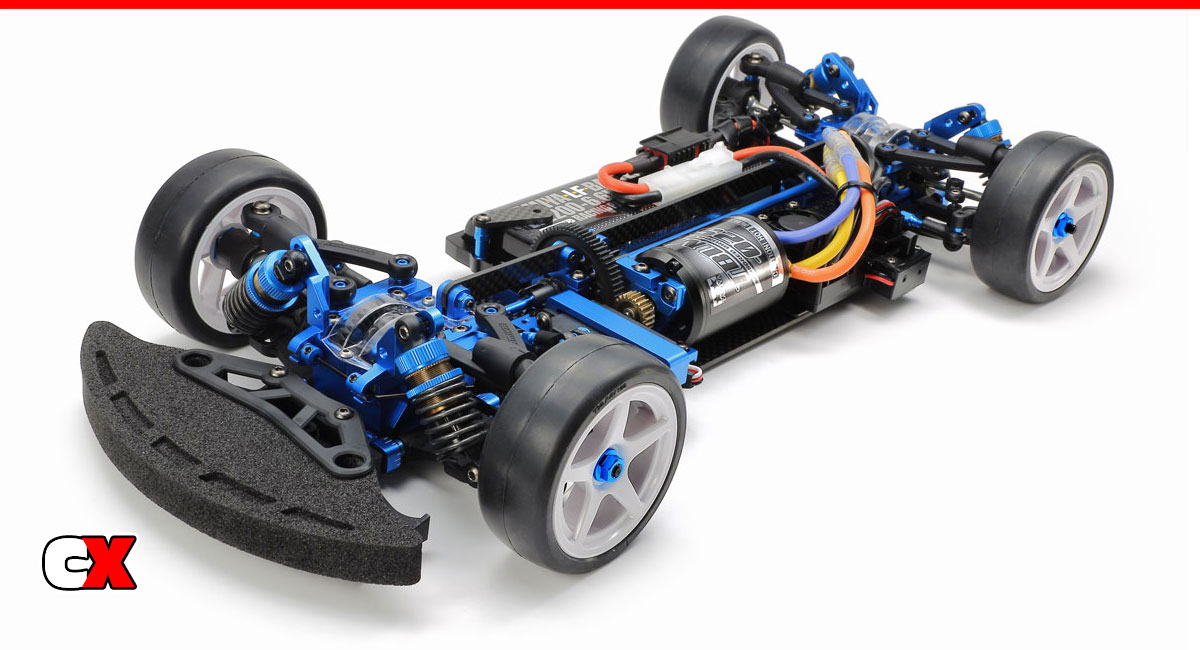 We've got some first official pix of Tamiya's new Egress Black Edition and TB EVO.8 rides. Both of these cars have a release date of late November with pre-orders starting soon.
Features
42383 Tamiya TB EVO.8 Chassis Kit
• 1/10 scale R/C shaft driven 4WD chassis assembly kit.
• Choose from two types of motor layout – front mid motor layout or rear mid motor layout.
• Lower deck and vertical upper decks are crafted in carbon fiber, and ensure pitch rigidity.
• Aluminum bulkhead and damper stay are one-piece component.
• 7mm suspension balls and king-pins are combined for smooth motion. (Item 22016)
• The front A-shaped arm suspension employs Super Short Big Bore dampers and uses 5.8mm balls to connect top and bottom sections for superior responsiveness.
• The rear suspension utilizes tie rods for easy adjustment of toe angle on upright side.
• The steering linkage is affixed directly to bulkhead to limit any impact upon chassis roll.
• Features efficient, fuss-free adjustment of motor backlash via two screws on chassis upside.
• Highly-efficient shaft-driven 4WD is achieved with a front direct coupling and double cardan drive shafts, plus a rear gear differential unit and aluminum drive shafts.
• Uses urethane front bumper (from Item 58693: TA08 PRO chassis) for great aerodynamics.
• Carbon fiber, floating R/C equipment deck attached by screws removes use of double-sided tape for maintenance.
• Comes with a carrying case.
47489 Tamiya Egress Black Edition
• 1/10 scale R/C model assembly kit. Length: 430mm, width: 243mm, height: 157mm. Wheelbase: 275mm.
• The lightweight, durable 0.7mm thick polycarbonate body depicts the form of the Egress – a successor to the famed Avante – with 1.0mm thick polycarbonate wing and under guard.
• Polycarbonate body, wing, etc. require painting with separately sold Tamiya Color paints for polycarbonate.
• This kit also features dark titanium color anodized front/rear damper cylinders and front uprights, plus new color stickers and silver color wheels.
We'll have more info when it becomes available.
For more information, please visit: www.tamiyausa.com
Gallery

Check out more cool products from Tamiya on CompetitionX.
Make sure you visit and subscribe to our YouTube Channel (CompetitionX YouTube) for up to date videos on all the current products!
Notice: Some of our articles, videos and descriptions may contain affiliate links, which means that if you click on one of the product links, we may receive a small commission. This helps support the website and social media channels and allows us to continue to produce content. Thank you for the support!
#tamiya #rccars #competitionx