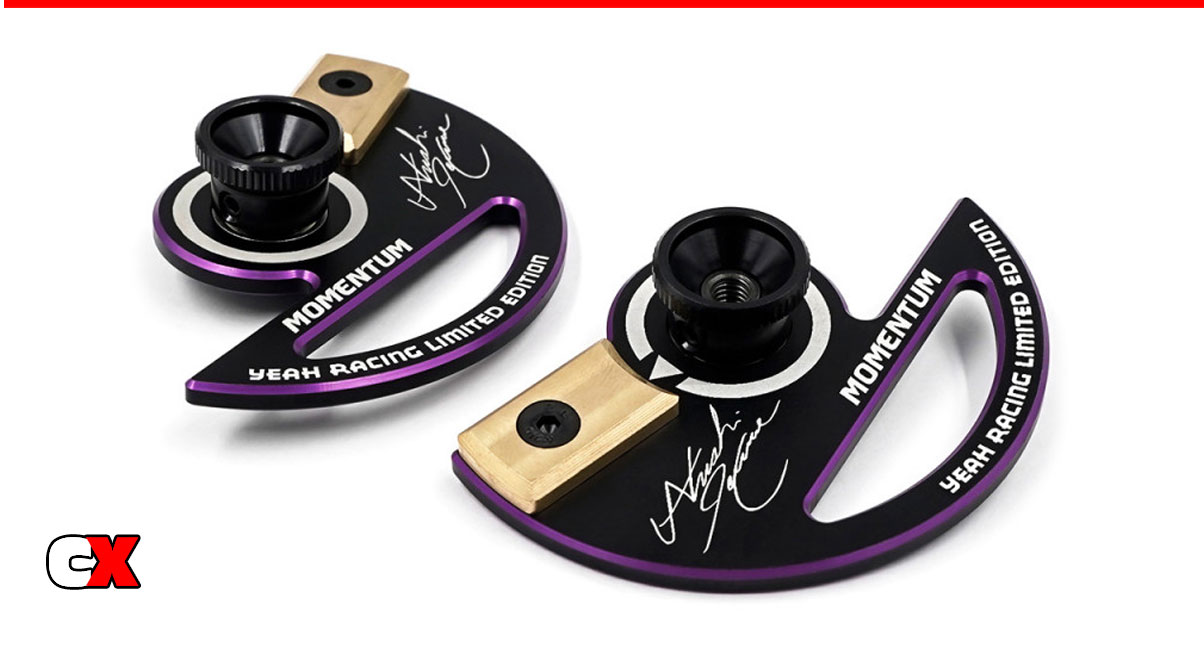 Here's a slick new tuning part from Yeah Racing – the aluminum Tweak Wheel!
Keeping your car tweaked correctly (mostly in onroad) is important for consistent handling. Using these weighted parts, you can accurately adjust the suspension for optimum handling. Simply install these on your front (or rear) axles, settle the car and gently lift up that end at the center point of the chassis. If your car is properly 'tweaked', both of these with swivel at the same time (due to the weights). If your car is out of tweak, one will swivel before the other. Simplicity at it's finest!
What We Like:
We race ALOT of onroad and having a car in tweak is very important. We use other ways of adjusting, but this is a cool (and somewhat expensive) way of doing it. And they look rad. And they're signed by Atsushi Hara himself. Sort of.
What We're Not Sure About:
While they are a cool part, $60 is a bit pricey for checking this tweak. We use pennies on the top of the tires and get the same results (so, it cost us 2c). These tweak wheels are probably a bit more accurate than the penny trick but, you know, not as cool looking.
MMT-018 Yeah Racing Momentum Aluminum Tweak Wheels

For more information, please visit: www.yeahracing.com
Check out Yeah Racing products at AMain Hobbies.
Check out more cool products from Yeah Racing on CompetitionX.
Make sure you visit and subscribe to our YouTube Channel (CompetitionX YouTube) for up to date videos on all the current products!
Notice: Some of our articles, videos and descriptions may contain affiliate links, which means that if you click on one of the product links, we may receive a small commission. This helps support the website and social media channels and allows us to continue to produce content. Thank you for the support!
#yeahracing #rccars #competitionx