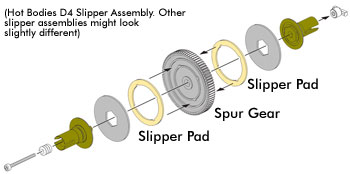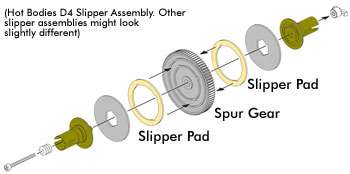 What is a Slipper Clutch?
The Slipper Clutch is another tuning tool used only in offroad. It is illegal to race with a Slipper Clutch in onroad.
Most Slipper Clutch systems use a spring to tension a disc and pad together. The more you compress the spring, the less the Slipper Clutch will slip. The more you decompress the spring, the more the Slipper Clutch will slip.
Tuning with a Slipper Clutch
The best way to set the Slipper Clutch is as follows: turn the car on (transmitter FIRST!) and face it away from you. Now, place both forearms on both rear tires, pressing down firmly. With the transmitter in one hand, give the car some throttle. One of two things will happen; either the car will make a slipping sound (Slipper Clutch is loose) or the front wheels will lift off the table (Slipper Clutch is too tight). The optimum setting is to set the Slipper Clutch so the front end ALMOST lifts off the table. You may need to fine tune it on the track.
Back to the RC Suspension Tuning Guide.