The Traxxas TRX-4M has been out a short time now, but we were still lucky to get our hands on one to unbox and take for a spin at our local crawling hot spot.
This new rig is tiny in size – only 1/18 scale – and is pretty standard as far as micro crawlers go, however it does have some neat features that do put it above the rest.
Let's take the deep dive into this itty bitty Bronco and show you what it comes with, how it performs and if it's really worth the incredibly affordable $150 price tag.
Specifics
Product:
Traxxas TRX-4M Ford Bronco
Website:
traxxas.com
Purchase:
https://bit.ly/3WrtPtz
Part #:
TRA97074-1-RED
Scale:
1/18 Scale
Price:
$149.99
Build Type:
RTR
Recommended For:
Those that have limited spaces to crawl OR want an amazingly capable micro rig to play with.
Unboxing/Action Video

What's Included
In addition to the Ford Bronco, you also get the Traxxas TQ Radio system, a 750mAh 2S LiPo battery, USB ID charger, tools and a couple pre-load spacers for the shocks – if you want more ride height. There's also the bag with the standard paperwork – manual and warranty info.
What's Needed
• 4 AA Batteries

Main Features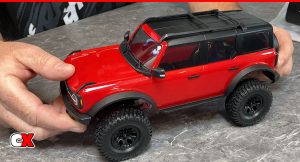 1. The first thing we need to talk about – and probably the obvious reason why you'd want one – is the stunning Ford Bronco body set. It's a hard body molded from ABS and comes chock-full of detail with separate parts like the roof rack, mirrors, door handles, grille and spare tire cover. It utilizes the Traxxas clipless body system to avoid any unsightly body mounts – in our opinion, ALL vehicles of this nature should have this setup! The Bronco is available in 4 different colors – blue, black, white and red – and all include molded bumpers with front factory-installed LEDs. The body also has LED buckets for front and rear lights, all controlled by the ECM 2.5 All-In-One ESC/Receiver/Light Controller.
2.
The chassis layout is simple – a dual steel c-channel frame with the servo up front, transmission down low in the center and the ECM 2.5 mounted in between the rear shock towers. This allows the battery to be mounted a little farther forward for better weight distribution. Beefy front and rear bumpers help protect the vehicle during rough, offroad excursions.
3. The transmission that comes in the Bronco uses a 'High Range' Gearing, giving it a good amount of speed while still being crawlable. However, Traxxas offers two optional transmissions that can be dropped in to modify the performance of the rig – a 'Speed Gearing' and a 'Low-Range' Gearing. This is an interesting option as it allows you to really customize how you want to use your TRX-4M.
4.
Let's talk suspension. The TRX-4M features a 4-link setup with their stellar oil-filled GTM shocks. There's plenty of articulation on all 4 corners with very little interference with the body at full lift. The steering is also excellent with an amazing 45° of angle, making tight turns a breeze.
5. The electronics package is top notch for a tiny rig. Traxxas has included a 2065T heavy duty waterproof servo for steering. It uses a metal main gear and working on the full 6v power, making it a bit overkill for turning this tiny truck. For go-power, the Bronco uses a crawler-tuned Titan 87T 180-size motor that has a plug attached for easy replacement. The ECM 2.5 is also standard, combining the ESC, receiver and lighting controller into one unit. Finally, it's all controlled by the TQ radio system.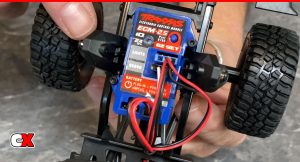 6. Because it's an interesting little setup, we wanted to chat a bit more about the ECM 2.5 combo unit. This 2S LiPo compatible unit has a one-button EZ-set programming function that allows you to progress through different driving modes. There's a Sport mode for general use, a Trail Mode that smooths the brakes for steep descents and a Crawl Mode that fully applies the brakes the moment the throttle is released, keeping the rig planted on steep hills. The ECM unit also doubles (or triples?) as a Lighting Controller, giving it Traxxas' Pro Scale LED functionality. We'll be playing a little more with this in the near future!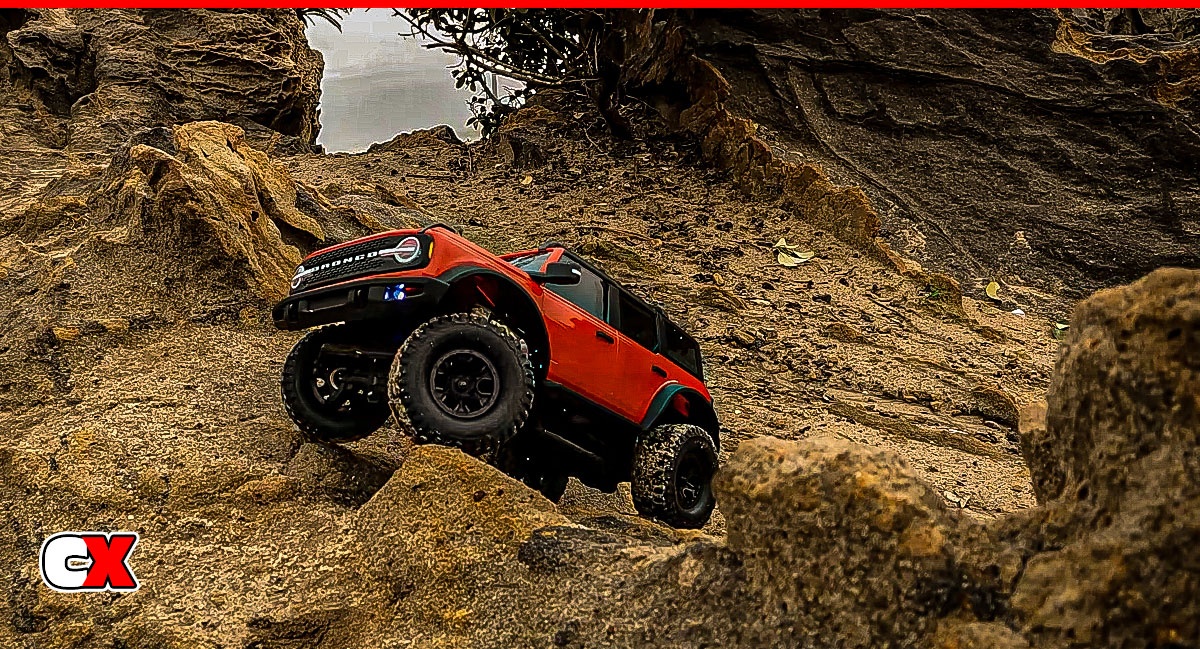 Performance
We took the TRX-4M to Corona Del Mar State Beach, a local crawling spot that is known for it's differing terrain. Got a scaler, lots of little trails running through the area. Brought you full-on comp rig – there's plenty of areas for that as well. Oh, and it's all right on the beach. Can't beat that!
Acceleration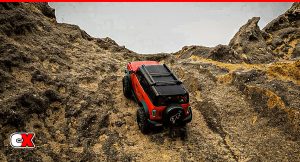 This category is all about throttle management, both up and down any rocky spots. Under normal use, the throttle felt smooth and silky, giving us excellent control of the rig. On the more trickier climbs, it felt like a much larger truck, climbing with ease (in most cases) with the bare minimum of throttle. Once the tires were wet (or sandy), it became a bit more slippy but, overall, we were pleasantly surprised by the smoothness of both the throttle and braking.
Handling
In its out-of-the-box setup, the Bronco was a joy to drive. It felt good going up, going down and going sideways, however it could benefit from a bit more weight up front. There were a couple times where we toppled backwards due to a light front end but, really, we were probably pushing the rig past what the out-of-the-box setup was made for. We did have to change our lines for some of the uphill spots to compensate but, for the most part, the Bronco felt rock steady. While the ABS body does add some weight up high, it's still light enough to not have to much affect on the performance of the truck.
Suspension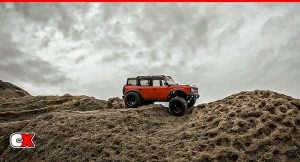 The suspension seems about perfect for this tiny truck. There was plenty of articulation when we chose the rough 'option line' (instead of just staying on the flat ground) and only once or twice did we get it high-centered. The shocks kept all four corners on the ground when needed and the tires seemed to have pretty decent grip – again, once they got wet or sandy it took a bit more 'doing' to get the truck to climb. We do feel, though, that a better set of tires (maybe even something with inserts) could boost the performance of this rig (just make sure they stay scale!).
Durability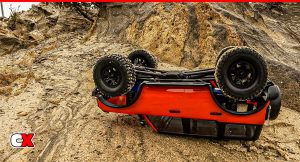 While we did dump the Bronco a couple times, its light weight means absolutely zero damage – not even any scratches on the body! We ran it through water, all good. Rolled in down a rough rocky incline, still going strong. Tumbled backwards down a pretty steep climb, not even a scratch. Unless you drop it from a tower, it's going to be pretty hard to damage this truck if you keep the driving scale.
Additional Notes
• The TRX-4M does NOT include bearings. Instead, a full set of self-lubricating bushings are installed everywhere. Honestly, we like this simply because it means we can go out and play and not worry about splashing through water, trekking through mud or bombing it through some snow. Zero maintenance.
• Making the ECM 2.5 unit 2S LiPo compatible is a great choice and opens up the Bronco to quite a few upgrade battery options. As a crawler, 750mAh is quite a bit, but there's always room to go bigger. And longer.
• We have to give it up to Traxxas – including the bumper LEDs gives the customer a taste of lighting. Pre-installing the body buckets and having an open port in the ECM (as well as some cool functionality) is a great way to entice the purchase of they rest of the LED setup.
Gallery

Final Thoughts
We've had a few micro crawlers before and all have worked well, but none have given us the entire package – performance and super scale – until now. We LOVE the look of the Ford Bronco and, teaming it up with a great chassis and super out-of-the-box performance, we can pretty much say this little guy is going to sell out. Everywhere. Especially for its affordable $150 price tag.
Is it worth it? Absolutely.
Does it need any upgrades? Not at all, but you'll want to simply because there's a ton of cool stuff out there to customize it with.
Do you need one? No. You need two – one to keep stock (because it is really fun in stock form) and one to modify because, well, we are RC nerds and we ALWAYS modify things.
Enjoy the Traxxas TRX-4M Ford Bronco. We know we will.