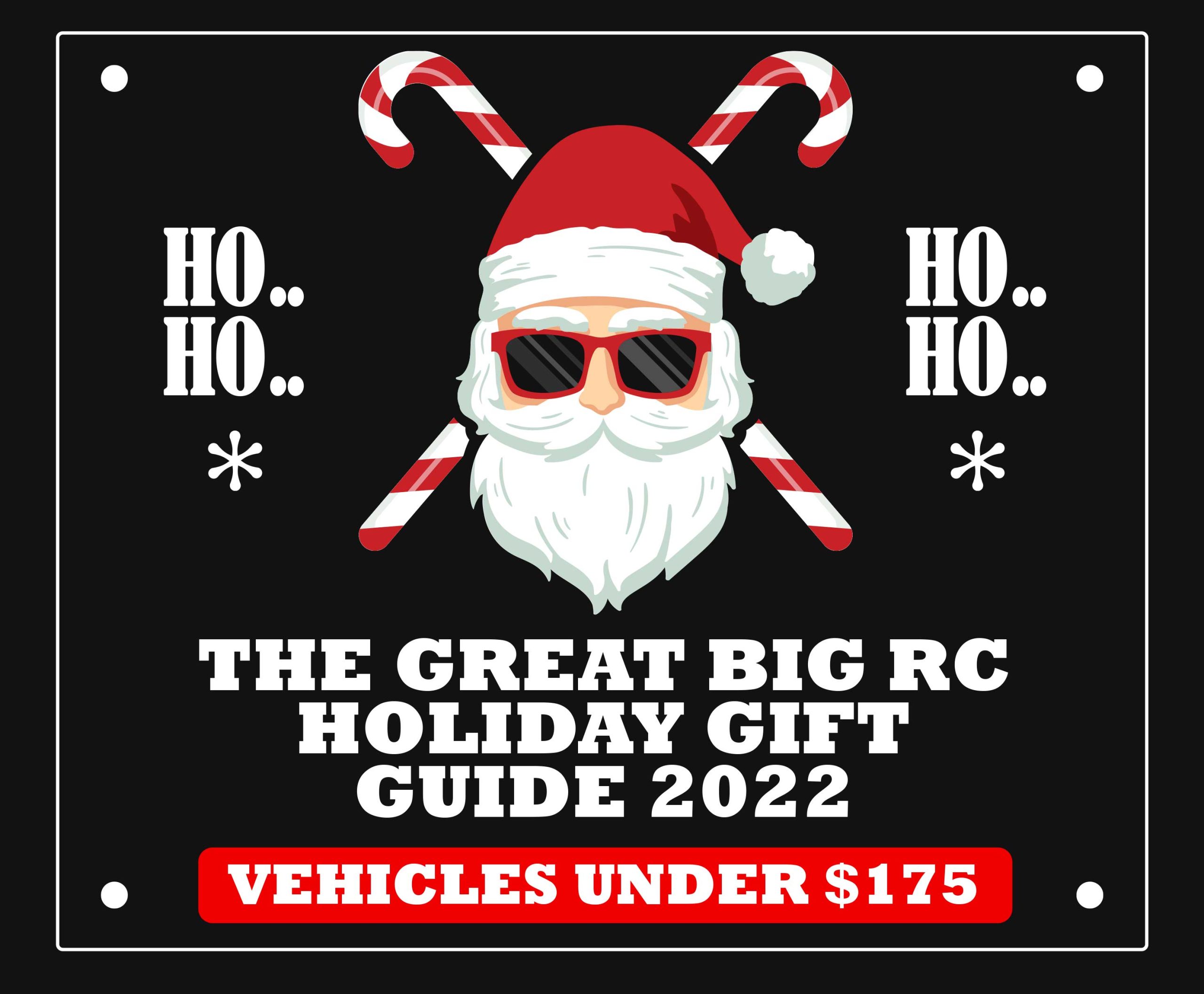 In Part 3 of The Great Big RC Holiday Gift Guide 2022, we're looking into the world of tiny RC cars. These range from 1/18 to 1/24 scale and all ring in at just under $175. They're perfect for a first time RC gift or a seasoned driver that has to get their fix in during the winter season! Either way, these rigs are all fully functional and customizable to add your own unique touch!
Budget-Friendly Vehicles Under $175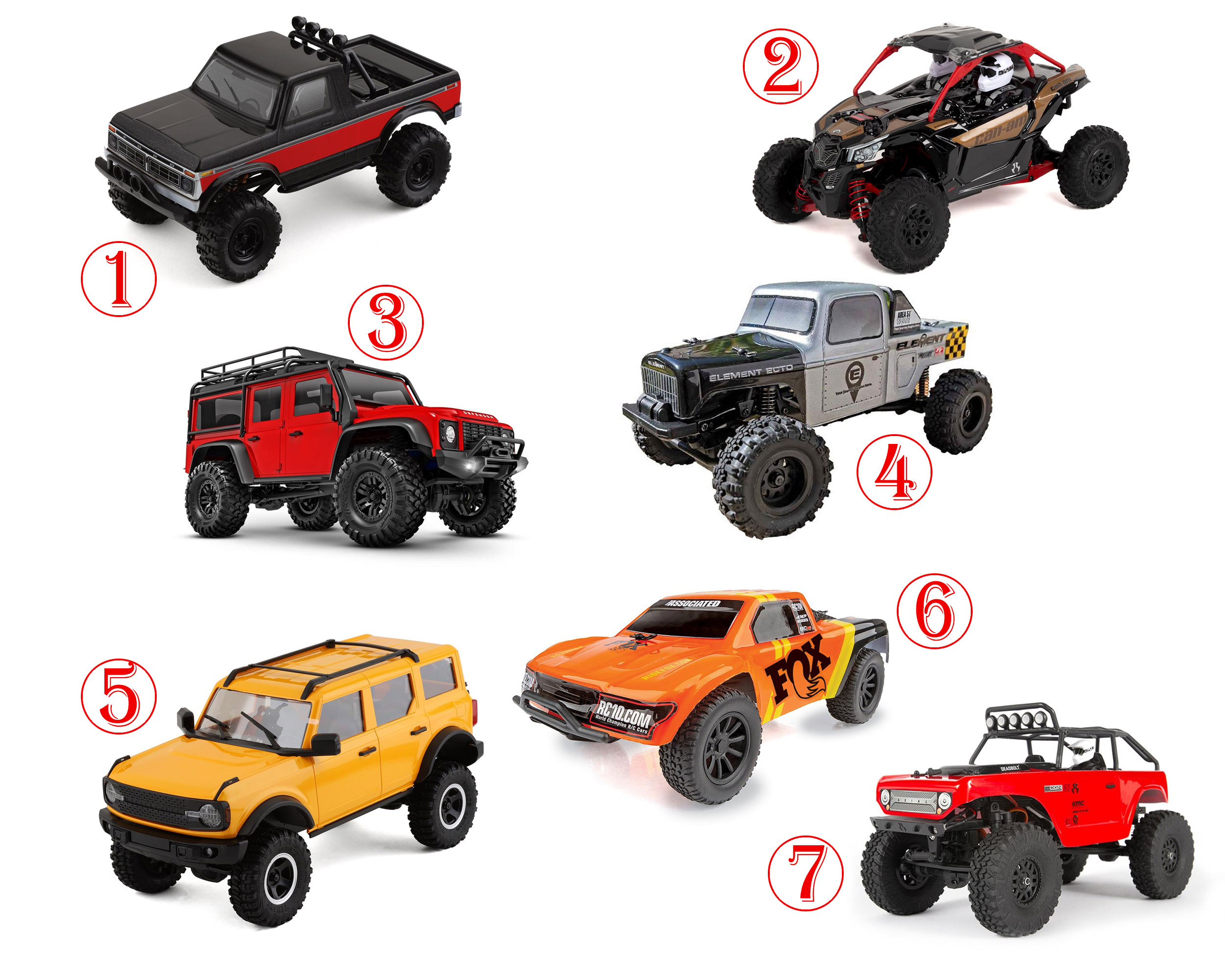 1. Carisma MSA-1E Ford F-150 Mini Crawler RTR – The Carisma is chock-full of features – Smart Throttle technology, hobby grade servo, radio with a 2-in-1 ESC/receiver combo, full-time 4WD and a 130mAh NiMH battery. It's also topped with an officially licensed 1976 Ford F-150 body set!
2. Axial Yeti Jr. Can Am Maverick X3 Rock Racer Buggy RTR – One of the coolest looking rigs in the list, Axial's Yeti Jr. is modeled after the full size Can-Am Maverick X3 and includes features like adjustable shocks, independent front/solid rear axles, actual 48P gearing, full ball bearings and Spektrum electronics. The body is hinged and swings up and out of the way for maintenance and repairs! It even includes a 6-cell NiMh 1300mAh battery pack for long run times!
3. Traxxas TRX-4M Mini Crawler RTR – The newest ride on the list (and possibly the most sought after), the TRX-4M is a bite-sized version of Traxxas' 1/10 scale TRX-4 Bronco (or Defender). It features a hard ABS body (with clipless mounting), waterproof electronics, oil-filled GTM shocks and some serious performance to go along with it.
4. Element Enduro24 Mini Crawler RTR – The Enduro24 is one rad truck, boasting a cool worm-drive system, chassis mounted servo, divorced transfer case and a new look with the military-ish paint and missing fenders. This truck is all about performance and includes everything you need to hit the rocks in no time!
5. FMS Bronx Mini Crawler RTR – The Bronx is a non-licensed version of the Bronco and includes a slew of great features – chassis-mounted servo, tuned shocks, 84:1 ratio transmission and a full set of high-performance electronics. Topping it all off is a great looking Bronx hard body set complete with scale items and a pre-installed LED lighting system.
6. Team Associated SC28 FOX Factory Edition Mini Short Course Truck RTR – Team Associated's SC28 is a bit more performance oriented compared to the other trucks. It sits on a 2WD Short Course platform and includes everything you need to go fast – including a bright orange officially licensed FOX Factory SC body!
7. Axial SCX24 Deadbolt Mini Crawler RTR – The Deadbolt is an iconic ride for Axial and is now available in 1/24 scale on the SCX24 platform. It's got everything you need for ultimate performance: powerful electronics (with an included LiPo battery), full-time 4WD, heavy duty drivetrain, coil-over shocks and a killer body set with roll cage, driver and LED lights.
Check out the other Holiday Gift suggestions listed below:
Part 1: Favorite Pit Items
Part 2: Stocking Stuffers
Part 3: Budget-Friendly Vehicles Under $175
Part 4: Mid-Level vehicles under $350
Part 5: Money-Is-No-Object Trucks over $700